8 March 2018
WindEurope Bulletin March 2018 Foreword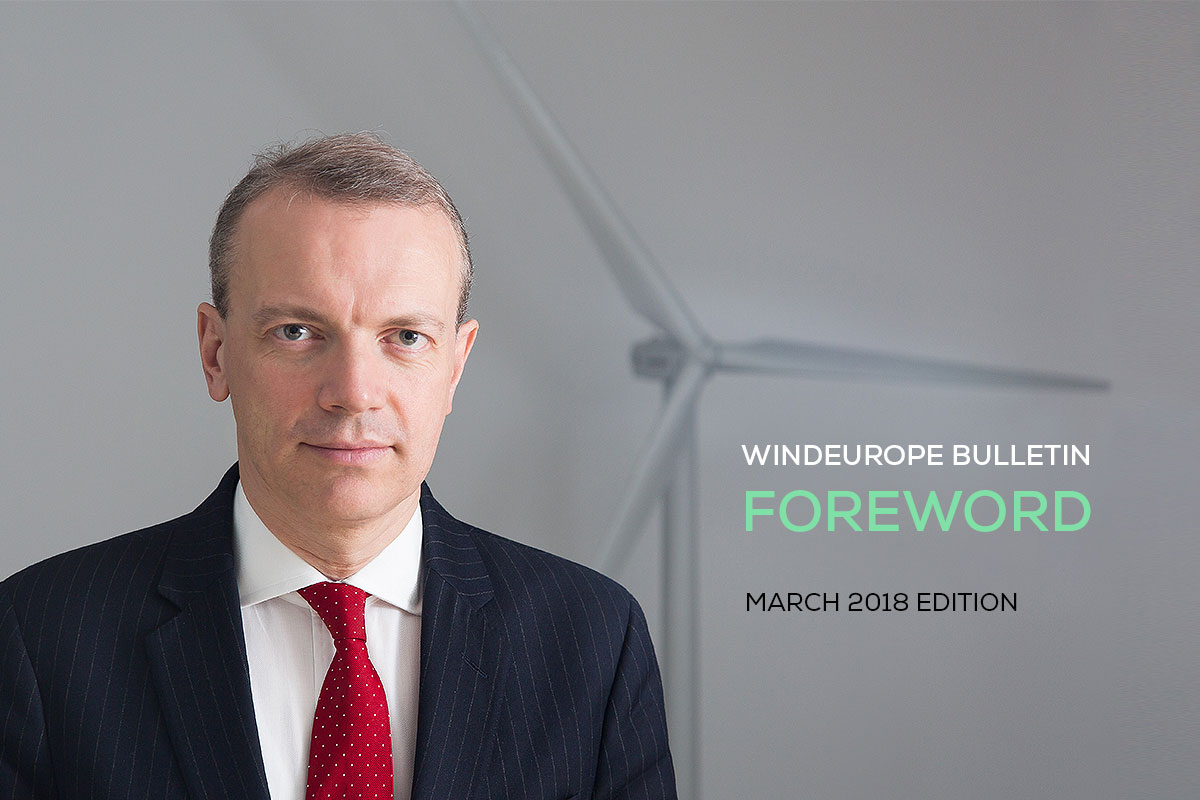 Dear WindEurope Member,
You may have seen that last month we released our 2017 wind installation and investment statistics.
The headline news was we installed a record 15.6 GW of new capacity last year, taking us to a total 169 GW.   12.5 GW was onshore and 3.1 GW was offshore.   Wind now accounts for 12% of Europe's electricity consumption.   2017 was also a record year for new investments in future wind farms.  11.5 GW worth of projects reached Final Investment Decision (FID): 9GW in onshore and 2.5 GW in offshore.  But the value of these investments, €22.3bn, was 19% down on 2016.   This of course reflects cost/price reductions.   Each unit of new capacity now requires less investment.
We're not getting too excited about these figures though.  A large number of projects 'squeezed through the gates' last year to benefit from feed-in-tariffs or other old support schemes. This was especially so in Germany: 5.3 GW of new onshore.  And in the UK which installed 2.5 GW onshore – whilst Renewable Obligation Certificates were still available.  France squeezed through 1.7 GW of new onshore too.
The medium- and longer-term outlooks for wind are uncertain.  The transition to auctions has been messier than we'd hoped.  Crucially, we're still lacking clarity from many governments on their post-2020 renewables ambitions.  We need this visibility to allow us to plan ahead and reduce costs.   It will also allow others such as Transmission System Operators to plan the necessary infrastructure build-out.
It's now clear given the expansion of renewables and the cost reductions that Europe can deliver on a 35% renewables target for 2030.  A 35% target is not just affordable, it's economically desirable.  The difference between a 27% and 35% EU renewables target is 132,000 jobs and €92bn worth of investments.   What will be the target is still under negotiation between the EU Member States and the European Parliament as they finalise the EU's "Clean Energy Package" for 2030.  The Parliament is insisting on 35%.  The Member States are officially still backing 27%, though many have now said they could back something higher.  The fact that Germany is now at last forming a new Government, and one that has an ambitious domestic renewables target (65% of electricity by 2030), could be helpful.   We may end up with a target of 30%.
Many of you joined us recently for our Grids meet Renewables event in Brussels.  The main takeaways were the need to be even more strategic about new grid investments, that they should reflect and support the planned further expansion of wind, and that grid (and wind) investors need to be even more inclusive in their engagement of external stakeholders and the general public.   You can read more about the event here.
In other news, Germany announced the results of its first onshore wind auction of 2018, the first under new rules.  Prices were up slightly (average €47.3/MWh) but there was fair competition between all the bidders this time.  And community projects were still among the winners, even having to bid with a permit this time.
France also just had an onshore wind auction. The average winning price was €65 MW/h. This was lower than the current tariff for smaller projects (€72 MW/h) and the €82 MW/h Feed-in Tariff previously awarded. We should not be too quick to compare this with auction results in other countries. Project lead-time in France is long, seven to nine years on average, and once you apply for your permit at the start of the process it's almost impossible to update it later on with the latest technology. That leads to higher prices.
Finally, a date for your diary: harnessing big data to optimise operations and maintenance is a major part of improving the performance of wind technology.   Our 2018 technical workshop – Analysis of Operating Wind Farms, 15-16 May in Vilnius – will look at this.
– Giles Dickson
CEO, WindEurope

Want to read more and receive our regular newsletters?