3 November 2021
WindEurope Bulletin CEO Foreword on our upcoming Electric City event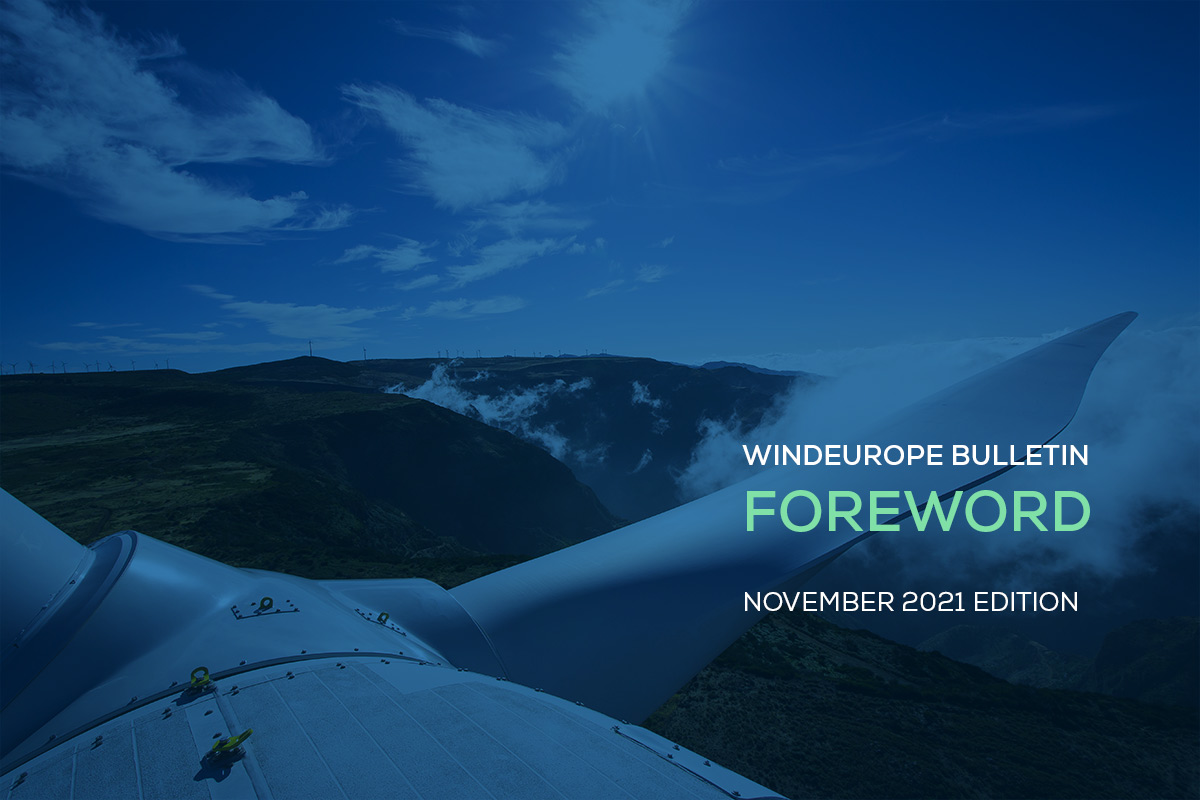 Dear WindEurope Member,
There's less than one month to go to the annual WindEurope event in Copenhagen on 23-25 November ("Electric City"). Over 380 companies will be exhibiting. And we're expecting at least 8,000 people. The event will cover all the key aspects on onshore wind and offshore wind and will focus also on the electrification of the energy system and how wind can help drive it. So alongside the wind industry there'll also be people there from the transport, heating and hydrogen industries and from heavy industry. The stands have now sold out – here is the floorplan.
Safety is our No. 1 priority for the event. We'll be doing everything to ensure things happen as comfortably and responsibly as possible. You can read our Health & Safety protocol here. You need a COVID certificate or recent test to attend. But there are no restrictions on movement – or stand receptions – once you're in the venue. You can register here – and you do have to register before coming. There won't be any on-site registration.
Now, energy prices… The high energy prices across Europe are a top issue for Governments, citizens and businesses right now. Governments are doing different things to try to manage the impact. Many are reducing taxes on electricity and/or shifting the tax burden from electricity bills to general taxation. This is good. Not least since it will help deliver a more level playing field between the tax treatment of gas and electricity. For too long electricity has been taxed more than gas per unit of energy consumption, and this has held back the electrification of heating and transport. Some Governments are also compensating consumers, household and industrial, for their higher energy costs. But some Governments have tried taxing wind farms and other generators more because they figure we're benefitting unfairly from higher wholesale power prices. This is bad. Spain tried it. Now Romania is trying it as well.
Meanwhile the EU Commission has published a "toolbox" to guide EU Member States on how best to deal with the situation. It aims to protect vulnerable consumers and shelter Europe from the sort of volatile prices we see today. The toolbox says very clearly that the best solution is to accelerate the expansion of renewables. Because renewables are affordable, and they will help Europe reduce its dependence on non-EU energy supplies, especially gas. The toolbox welcomes what countries are doing to reduce electricity taxes and allows Governments to compensate consumers. But it gives no cover to Governments who want to claw back wind farm revenues. Good.
And one week after the toolbox Spain towed back significantly on its planned gas charge on wind farms. Good. But Romania has now brought in an 80% tax on all power producers for everything they earn above €95/MWh. Even worse, they're now thinking of exempting all fossil plants from the tax. We are taking action with the EU Commission to push back against this, as we did with the Spanish measures.
Separately the EU Commission have confirmed as part of their toolbox on energy prices that they will issue guidance to National Governments next year on simplifying and accelerating the permitting process for renewable energy projects. We are working with them on the detail. They've also called on EU Member States to step up renewable auctions, build more electricity storage and invest more in cross-border grids. You can read more on all of this in our press release here.
The Commission have also highlighted corporate PPAs as a key response to the current energy prices – in that they help ensure stable and affordable power prices for Europe's businesses. And they've proposed a raft of new initiatives to facilitate PPAs. This was the backdrop to our annual RE-Source Event in Amsterdam last month: Over 750 corporate buyers and renewables producers/sellers met for a conference and B2B matchmaking. Everything was in-person and safe – and a great rehearsal for our Copenhagen event.
Finally, the annual WindEurope event on end-of-life issues and strategies (EoLIS) takes place on 4-5 November in Brussels. The challenge of what to do with ageing wind farms gets bigger all the time. Most get their lifetime extended. But we need to repower much more if we're going to meet our 2050 climate targets. So what's the best legal framework for this? What about decommissioning – how do we deal with blade waste? And is there a way to make lifetime extended turbines more efficient?
EoLIS 2021 will identify best practices and solutions. You can still register here.
I look forward to seeing you at our annual event in Copenhagen on 23-25 November.
Kind regards,
Giles Dickson
Want to read more and receive our regular newsletters?