26 April 2023
Defence, youth and NGOs all join wind industry gathering to shape sustainable energy future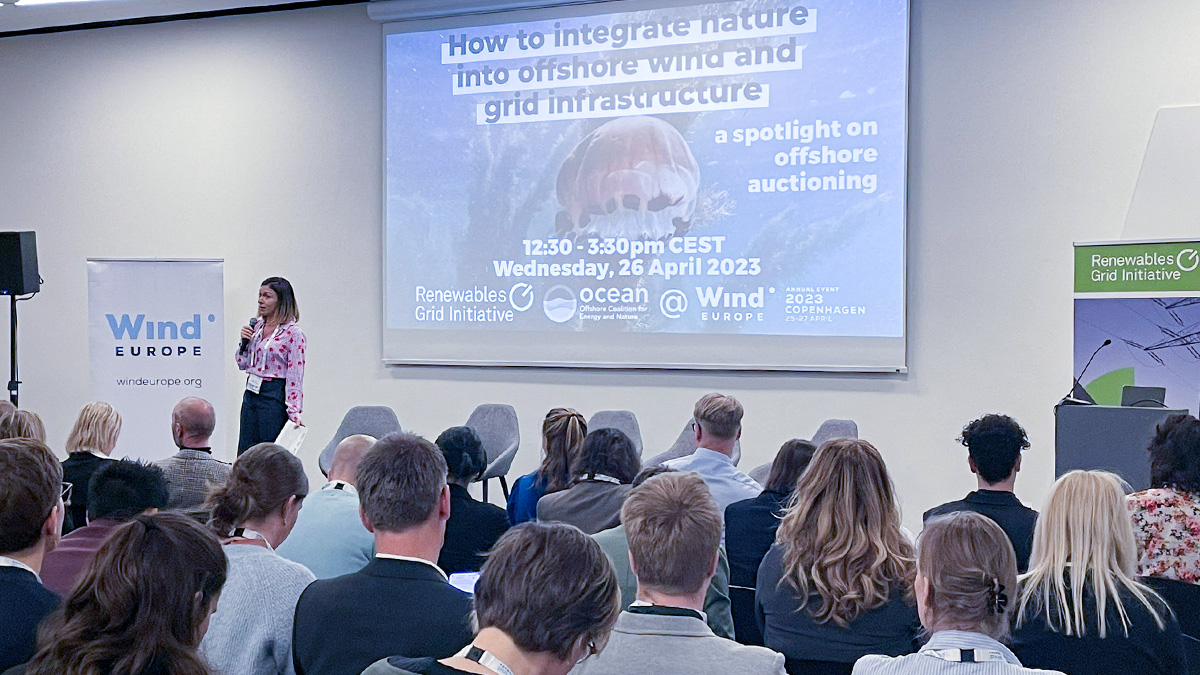 Leading environmental NGOs, students and national defence representatives are attending WindEurope's Annual Event 2023, happening now in Copenhagen. They're joining the wind industry and policy makers to discuss the different topics of biodiversity protection, skills and education, and interaction between wind farms and defence activities. As Europe wants to accelerate the build out of wind energy to meet its climate goals and strengthen its energy security, it's crucial that the industry seeks active cooperation with other sectors and societal interests to pursue the harmonious coexistence of all.
It's not the first time NGOs, students or national defence representatives are coming to WindEurope's Annual Event. And most of the work on the different issues of nature protection, skills and education, and interaction with defence activities is done throughout the year. But this year WindEurope is ramping up both the representation of other sectors and their collaboration with the wind industry and policy makers.
More than 20 NGOs are joining the event to address the coexistence of wind farms with nature. Together with researchers, biologists, sustainable fish farmers and national and European policy makers, they are meeting the wind industry to discuss how we can deploy the volumes of wind energy we need while protecting and restoring the environment. Four sessions are fully dedicated to nature protection, sustainability and community engagement.
One side event, organised jointly with the Renewables Grid Initiative and the Offshore Coalition for Energy and Nature – OCEaN, is looking more closely at ecological non-price criteria in auctions and their role in integrating nature into offshore wind and grid infrastructure. And several companies offering solutions to avoid, reduce and mitigate wind farms' impacts on biodiversity, such as detection and deterrence systems for birds and bats, are exhibiting at the Event.
Youth is well represented too with 500 students joining the Event on Thursday for the Student Day. They have a special programme with an emphasis on knowledge and networking, and several sessions giving them the opportunity to learn more about the technical, digital, sustainability and market challenges in the wind sector.
In parallel, FLORES – the large-scale partnership to foster offshore renewable energies in the Pact for Skills, co-funded by the European Union, is organising a workshop on tackling the skills demand and supply side in the offshore renewables sector, identifying gaps and mismatches and offering targeted solutions to address them.
Regarding the interaction of wind farms with defence activities, a side event is dedicated to identifying best practice and highlighting the role of wind energy in supporting defence and security goals, with concrete examples from Denmark, Belgium, the UK and the US.
Pierre Tardieu, WindEurope Chief Policy Officer, says: "Europe wants to build a lot more wind farms to meet its climate goals and improve its energy security. The EU just agreed to increase its 2030 Renewable Energy target from the current 32% to 42.5%. This gives us the wind industry a great responsibility to deliver. And that includes delivering on the happy coexistence of wind with the wider society and the environment. We all share the same goal. Now is the time to work together more closely, find solutions and shape the collective future that we want."
Antonella Battaglini, Renewables Grid Initiative CEO, says: "Collaboration is key to stop our climate, energy and biodiversity crises and it's great to see a growing number of sessions at the WindEurope Annual Event that highlight the successes of the wind industry and civil society working together. On behalf of both RGI and OCEaN, I am especially excited that the agenda puts such emphasis on the importance of bringing energy infrastructure deployment and restoration ambitions closer together. Jointly, we have already taken steps in the needed direction, but there is still a lot we need to learn, and we can only succeed if we do it together."
Ariel Brunner, Regional Director BirdLife Europe & Central Asia, says: "Decarbonising our energy system, and restoring the health of our ecosystems are key existential challenges of our time. They must go hand in hand. With good special planning, the best use of science, and cooperation based on good faith, we can make space for both wind power and nature. But this requires hard common work rather than looking for shortcuts such as deregulation of environmental laws."