Organised by:
Date: Thursday 27 April
Time: 09:00 – 15:00
For the next generation of energy professionals who will run tomorrow's renewables-based energy system, we are hosting a special student programme with an emphasis on knowledge & networking.
Join the Student Day to gain insights in the wind industry by learning more about the technical, digital, sustainability and market challenges in the sector!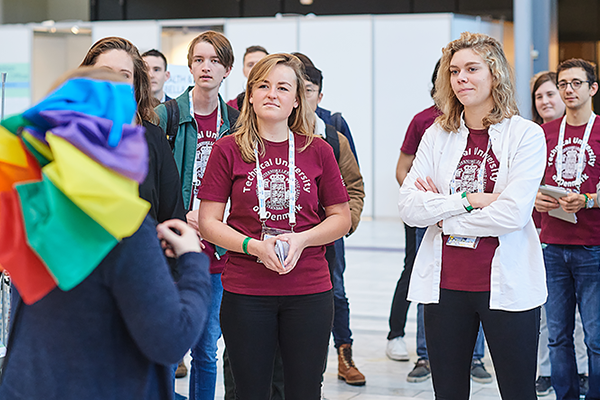 Programme just for students
Time

Description

09:00-10:00

Welcome coffee – Next to Auditorium 15, Level 1

10:00-11:00

Plenary opening – Auditorium 15, Level 1

The green transition and job opportunities
Thousands of new jobs will be created over the next few years to meet global climate targets and political ambitions. For the European wind energy sector, estimates say that 150,000 new positions will be needed by 2030. But what type of jobs do we need in the energy sector as a whole and what career opportunities are available?
Presentation from the sponsor: TotalEnergies
Programme of the day

Speakers:
Organiser: WindEurope – Oliver Wykes – COO
Organiser: Green Power Denmark: Anders Mika Dalegaard – Head of Membership and Events
Sponsor: TotalEnergies – Christina Petersen – Head of Country Services and Managing Director of TotalEnergies Denmark

11:15-12:00

Track 1: Technical challenges and opportunities – Electrification Stage, Hall E
The green transition brings a huge number of technical challenges that need to be addressed by energy technology suppliers. Learn more about these challenges in this series of upcoming presentations from a wind turbine operator and manufacturer.

Speakers:
Session 1: RWE – Matilda Machacek – Offshore Wind Development Country Lead Nordic
RWE – Christina Andersen – Business Development Manager
Session 2: Vestas – Erik Carl Lehnskov Miranda – Head of Next Wind Turbine Solutions, Innovation and Concepts
Vestas – Robert Thomas Rudolf – Concept Technical Lead, Innovation and Concepts

12:00-13:00

Lunch break 1 – Next to Auditorium 15, Level 1

12:15-13:00

Track 2: Digital challenges and opportunities – Electrification Stage, Hall E
The massive scale-up of renewable energy that lies ahead will not be possible without an intensified focus on digitalising the energy sector. Learn more about what solutions companies foresee (digital twins, cybersecurity, AI, data processing etc.)

Speakers:
Session 1: Siemens Gamesa Renewable Energy – Henrik Pedersen – Solutions Architect Diagnostic Intelligence
Session 2: Microsoft – Micael Grubbe – Principal Solution Specialist, Data & AI

13:00-14:00

Lunch break 2 – Next to Auditorium 15, Level 1

13:15-14:00

Track 3: Market and supply chain trends – Electrification Stage, Hall E
Global objectives for the green transition are ambitious, whether in Denmark, France, the USA or India. But at this time of war in Europe, an ongoing energy crisis, inflation and the threat of higher trade barriers, there is huge pressure on the green energy value chain.
In this session we will focus on the massive expansion of renewable energy worldwide, the leading markets, and the opportunities and challenges this brings to the entire supply chain – including global market trends, consolidation and new business models.

Panel:
Moderator: Brinckmann – Carsten Brinck – Managing Partner
Speaker 1: Vattenfall – Thomas Hjort, Director – Innovation – Offshore development
Speaker 2: Van Oord – Wouter Dirks – Manager R&D and Innovation
Speaker 3: Kühne + Nagel – Felipe Cecilio – Vice President Renewable Energy Logistics, North, Central & South America

14:15-15:00

Track 4: Sustainability – Electrification Stage, Hall E
Delivering clean, renewable energy is not enough for the energy sector. Securing the greenest possible solutions from start to finish is also top of the agenda for many companies. Learn more about how these companies approach and work on sustainability.

Speakers:
Session 1: Ørsted – Mie Prehn Nygaard – Decarbonisation Manager
Session 2: TotalEnergies – Magali Collin – Wind R&D Sustainability theme leader
Meet other students from international universities

---
Meet with exhibitors (and maybe your future employer?)

---
Got a question?
For any questions on the Student Day, please contact Stephanie Rycken.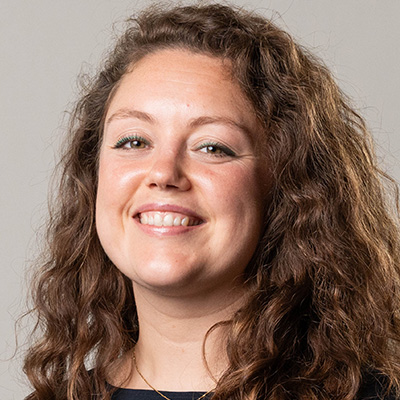 Stephanie Rycken
Events & Sales Assistant