It's time for a new societal contract in offshore wind and renewable energy. Ørsted is ready to lead a market-driven buildout of wind energy based on fair competition and in respect of nature. The complexity we face should not stop us from taking the next step forward. Together, let's open the path to progress.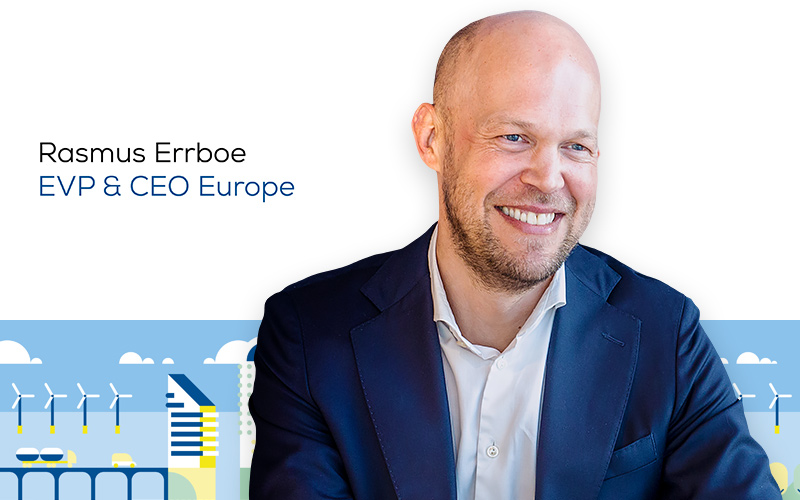 Q&A
with Rasmus Errboe, EVP & CEO Europe
What is the most pressing priority for your company today?
The number one priority for 2023 and 2024 should be to bring action in line with ambition. The world is in desperate need of renewable energy. It's a complex task to design a future energy system that can support a cost-competitive green transition, reduce dependence on imports, and ensure a resilient and reliable energy supply. But we mustn't let this complexity stop us from taking steps forward. The obstacles that stand in our way are human-made – which means we have it in our power to solve them, Together, we can create a world that runs entirely on green energy.
How does Ørsted contribute to addressing this issue?
At Ørsted, we want to install 50 GW renewable energy capacity by 2030 – the vast majority of which will be wind energy. Some of this energy will be fed directly into the grid, while some will be used to produce renewable hydrogen and e-fuels. For the latter, we're engaging with the heavy industry and heavy transport sectors to understand their needs, and striking partnerships to build green energy clusters for the future. However, we can't deliver on these targets without the freedom to develop a sustainable green energy build-out and a flourishing supply chain. Therefore, we encourage politicians to accelerate centralised tenders including non-price criteria and to establish schemes for open door and greenfield projects.
What do you like about the wind industry?
Working in the wind energy sector in 2023 is a bit like how I imagine it was to work in the car industry in the early 1900s. This wonderful, relatively new technology is starting to become mainstream, but we're still only seeing the beginnings of the huge role it'll play in transforming the energy sector – and our global society.
Being part of such a fundamental change brings significant responsibility. I'm proud to represent a company that will play a crucial role in decarbonising society, and one that's working hard to create a future energy system that also brings value to communities and habitats where we operate. It's a tremendous privilege to work with these opportunities and challenges. I enjoy it – and take it very seriously – every day.
It's time to bring wind energy to hard-to-electrify sectors. To take renewable hydrogen from ambition to tangible reality, simplicity and speed are of utmost importance. Binding targets for decarbonization in industry and transport are needed to trigger investments into Power-to-X and deliver a globally competitive, demand-led hydrogen economy.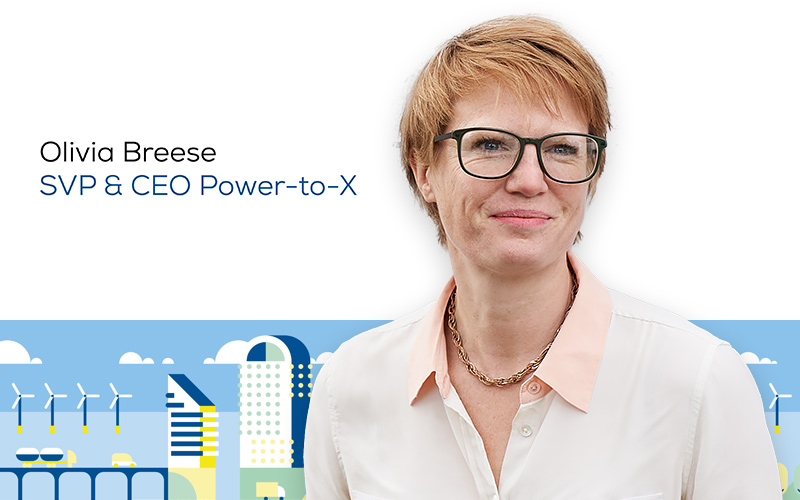 Q&A
with Olivia Breese, SVP & CEO Power-to-X
Tell us about your job as CEO of Ørsted Power-to-X
I'd say it's one of the most exciting jobs around! It's fun, challenging, but most of all, it has a bigger purpose. Ørsted's Power-to-X team is at the forefront of the green transition, developing projects that will help to decarbonise some of the most challenging sectors. Ørsted is really leaning into this deep green transformation of society with key strategic investments, like our final investment decision on FlagshipONE in 2022. It's a huge privilege to be a part of that.
What are the key issues you and your team are trying to overcome?
It remains a challenge that supply and demand need to materialise in tandem. It's been called the chicken-and-egg problem of Power-to-X, but it's much more complicated than 'who goes first'. It's about harvesting renewable energy and delivering it as molecules at the time and place that they're needed by those hard-to-electrify sectors like steel and heavy transportation. In essence, its sector coupling. We need the whole value chain to scale up together. However, I think we're starting to see momentum in some industries like shipping. Here, the demand side has ordered new green vessels, while Ørsted, for example, is building production capacity for green marine fuels. At the same time, supportive regulation is materialising. I hope that this trinity of ambitions from the supply, demand, and regulatory sides can serve as inspiration for other sectors. Recent clarity from the EU on definitions of renewable hydrogen (the so-called Delegated Acts) is essential to our projects. We sincerely hope that EU policymakers will also soon announce ambitious new decarbonisation targets for industry and transport as part of the Renewable Energy Directive III, Fuel EU maritime, and ReFuel EU aviation.
What do you like about the wind industry?
The purpose, the people, and the passion. It's very meaningful to help change the world for the better, and I think that challenge and that purpose attract a lot of very dedicated and passionate people. Fortunately, we meet many of our friends and partners from the wind industry when doing Power-to-X projects. More electrons please!