It's time to leverage collaboration to deliver on our industry's purpose: providing energy. The war in Europe has shown us how fragile energy security can be. We need to build up sustainable supply chains capable of delivering unprecedented growth in wind power. Access to acreage, effective regulatory processes, control of inflation and healthy economic margins will all be required.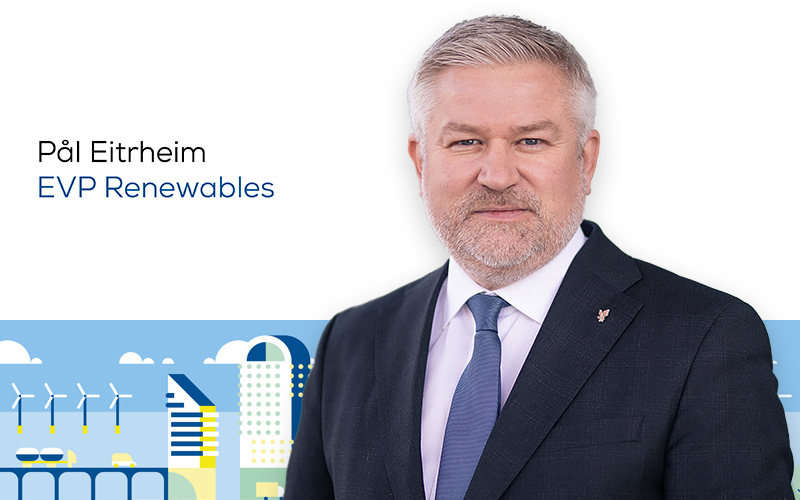 Q&A
with Pål Eitrheim, EVP Renewables
What is the most pressing priority for your company today?
Equinor's purpose is to Equinor's purpose is to turn natural resources into energy for people and progress for society. With the ongoing war in Europe and the energy situation, energy policy has become a matter of security policy. Our most pressing priority in the short term is to deliver the energy societies need, at the same time, we are building up sustainable energy sources to contribute to energy security and decarbonisation in the energy transition.
How does Equinor contribute in addressing this issue?
As an energy provider, we're constantly working to deliver as much energy as possible to our neighbours in Europe and the UK. We are also putting actions behind our strategy to scale up renewables. We are on track to deliver on our ambition and by 2030, our portfolio has the potential to produce anywhere between 35-60 TWh of renewables, most of that within offshore wind. At the same time, we see a clear need for access to more offshore wind projects both for us as developers, but also for the supplier industry to facilitate necessary investments.
What do you like about the wind industry?
I like to work in the wind industry because it can make a difference. Wind power will be an important part of the future energy mix and reaching the net-zero target of the Paris agreement. The wind industry has an incredible potential for delivering renewable energy at scale, but is also facing some tough challenges in order to realise that potential. Working to find good solutions, together with governments, societies, suppliers and academia is crucial, and something that is high on the agenda in the wind industry.
It's time to deliver offshore wind at scale. We are building Dogger Bank, the world's largest wind farm, and stepping up floating wind from its origins at Hywind Scotland. Developing at scale calls for certainty in available volumes, so that supply chains can prioritise innovation, scale up, and enable Net-Zero to be reached.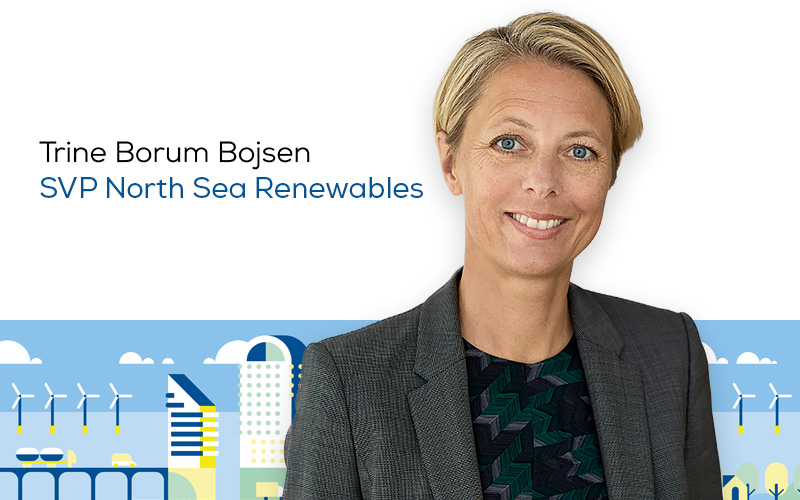 Q&A
with Trine Borum Bojsen, SVP North Sea Renewables
Tell us about your job at Equinor?
I'm the SVP of Europe Renewables at Equinor, where I'm responsible for building our renewable energy portfolio across the continent, spanning offshore wind, green hydrogen and storage technologies, while leveraging the broad energy offering that Equinor can provide.
What are the key issues you and your team are trying to overcome?
The key challenges we are trying to overcome as a team include increasing the financial sustainability of our industry to deliver renewable energy at scale and integration of innovative solutions such as storage in our projects, which will overcome intermittent supply into Europe's grid infrastructure and allow more penetration of renewable energy into our energy mix.
What do you like about the wind industry?
I have been in the wind industry for over 20 years, so have seen it develop from a niche industry into a critical part of our energy mix. I am personally excited about the challenge of taking the industry through its next evolution into the backbone of our energy system, and we'll need to continue innovating, working closely with governments, to enable wind energy to be the go-to solution to society for large-scale renewable energy development.