5 September 2018
WindEurope Bulletin September 2018 Foreword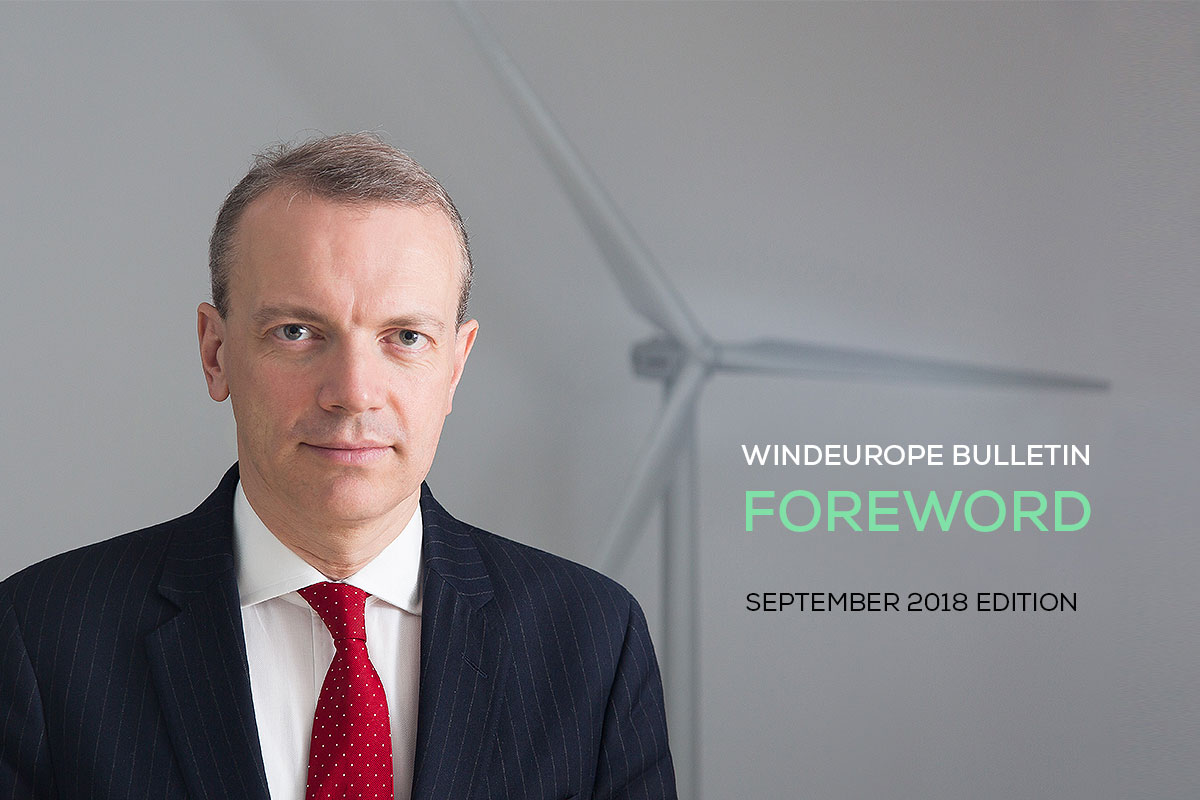 CEO Foreword
Dear WindEurope Member,
There are just 3 weeks to go now until the world's largest wind energy event, the Global Wind Summit in Hamburg (24-28 September). The WindEurope 2018 Conference will be taking place inside the halls of WindEnergy Hamburg's on- and offshore expo, making it easy for you to get the most out of the event.
Our conference programme brings together more than 500 speakers, including top figures from government, industry, finance and academia.  Don't miss the opening plenary session at 09:30 on Tuesday 25th: we'll have EU Energy Commissioner Miguel Arias Cañete, IEA Executive Director Fatih Birol, the Energy Ministers of Denmark and Norway and the head of BusinessEurope, the EU's top industry lobby.
Each day of the conference has a theme.  Day One (Tuesday 25th) is electrification and sector-coupling. Day Two (Wednesday 26th) is digitalisation and other technology developments in wind. Day Three (Thursday 27th) is finance, notably how we're going to finance wind energy in an increasingly merchant environment. And Day Four (Friday 28th) is new and emerging markets for wind and the long-term outlook.
Can I share the key messages we will be pushing over the four days of the event.
The theme of this event is 'Breaking new ground' – and we'll be looking at the different ways in which wind energy is re-shaping the global energy mix, today and tomorrow:

unleashing the potential of digitalisation thanks to data science and now material science
finding new ways of financing wind farms – such as PPAs – as we move towards a more merchant environment
technological breakthroughs, for example in floating offshore wind, to unlock new areas for growth and
how wind energy has the potential to drive the renewables-based electrification of the European energy system.

Renewables-based electrification will be central to any successful strategy to decarbonise the EU's energy system. If we're serious about decarbonisation, renewables-based electrification has to be our number one priority. This will be the focus of our flagship report, which we will be launching at the event. We've done OK getting renewables into power, but power is only 24% of Europe's energy. We now must get renewables into heating, transport and, crucially, industrial processes.
The societal benefits of doing this include:

obvious CO2 emissions reductions
reducing other pollutants emissions (health-related costs of poor air quality are estimated at 3-9% of Europe's GDP)
reducing energy consumption
strengthening Europe's energy security (EU currently imports 54% of the energy it consumes at a cost of more than €1bn per day)

The European wind supply chain is under pressure from rising international competition combined with society's aspiration for cheap renewables. We need the market scale and R&I funding to ensure the equipment that will decarbonise our economy is Made in Europe.
Now that we have a 32% EU renewable energy target for 2030, the ball is in the court of the Member States. The first drafts of their National Energy and Climate Plans due by December 31st need to have significant volumes for wind energy to sustain our global leadership while fully benefitting from local economic impacts.
In addition to our conference programme, there are plenty of side events and networking opportunities: our Members' Reception will take place at the Hamburg History Museum on 25 September. We will be hosting the North Seas Energy Forum on 26 September, continuing the fruitful discussion that took place in Amsterdam last November. And after its great success last year, the Hack the Wind hackathon is back from 25-27 September. You can find out more about all our side events and networking opportunities here.
Finally, as a WindEurope member, you get 30% off your ticket to the conference – and a conference ticket gives you free access to the expo. You can get your tickets here.
The Global Wind Summit is unquestionably the most important wind energy gathering of the year: 35,000 participants from more than 100 countries will be in attendance, making this a must-attend event.
I look forward to seeing you there.
– Giles Dickson
CEO, WindEurope
Want to read more and receive our regular newsletters?