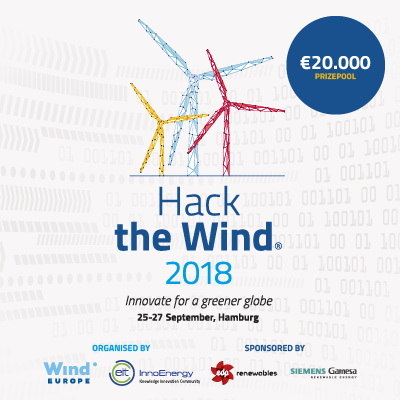 When: 25 – 27 September
Open to: Hackathon participants (Register here)
---
On September 25 to 27, during the Global Wind Summit, InnoEnergy and WindEurope will host Hack the Wind 2018 – the second edition of the hugely successful Hack the Wind 2017 hackathon.
Hack the Wind is dedicated to moving the wind energy industry forward and as such is inviting designers, developers, data scientists and analysts, blockchain developers, and wind energy experts to work with some of the biggest names in the industry to create solutions for the proposed challenges.
Participants in the hackathon, held at the WindEurope Conference 2018, will be split into teams – all competing for a share of a €20,000 prize. To be awarded this prize, participants will have to propose innovative and implementable solutions to the challenges promoted by the event partners.
Siemens Gamesa Renewable Energy will have the participants working on Blockchain applications for hybrid systems optimisation, while EDP Renewables will propose a challenge related to predictive maintenance and Operation and Maintenance optimisation.
Find out more about Hack the Wind