1 May 2017
WindEurope Bulletin May 2017 Foreword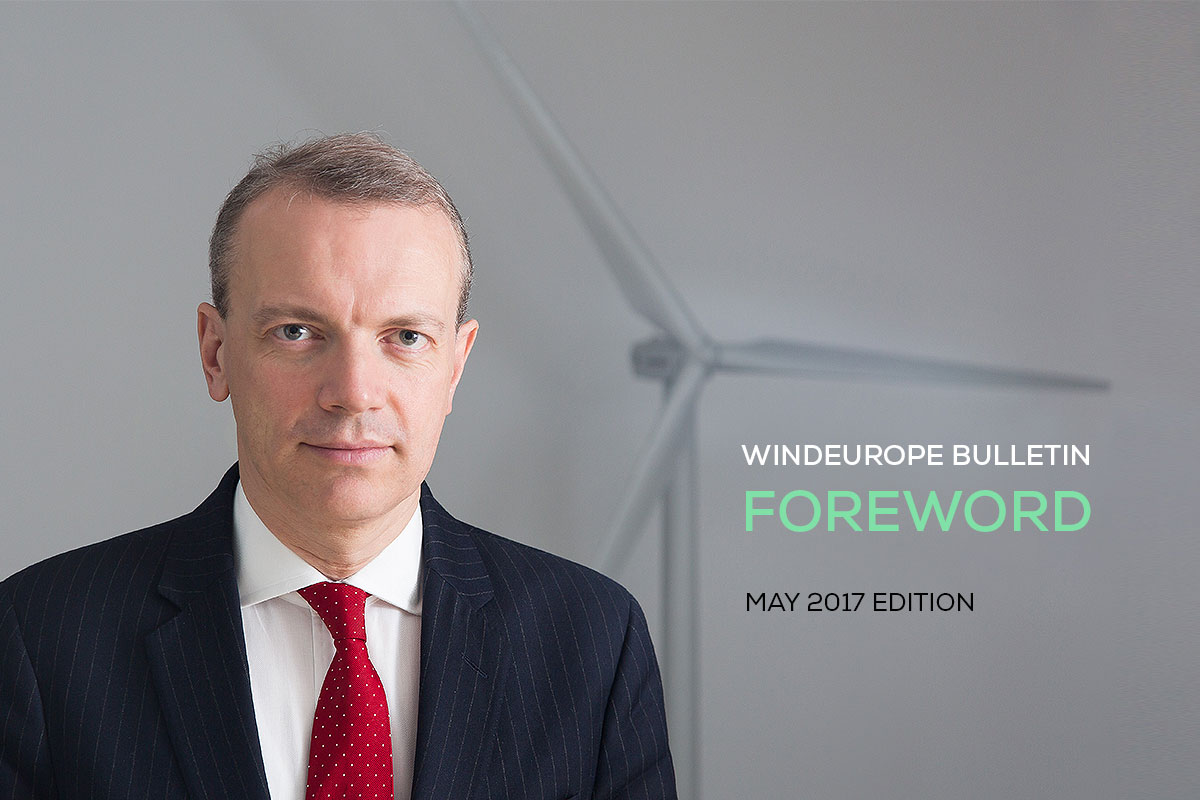 A time of opportunities
Don't wait for opportunities, create them! Both the wind industry and WindEurope abide by this principle. It fuels our constant drive for innovation and improvement. In this spirit can I highlight to you all three great opportunities you may want to exploit in May and June.
The first is Offshore Wind Energy 2017, the world's largest offshore wind energy conference and exhibition. It's taking place in London on 6-8 June. Together with our event partners RenewableUK, we look forward to welcoming thousands of leading and emerging players in the offshore wind energy sector from all over the world.
With our event ambassadors DONG Energy, MHI Vestas, ScottishPower Renewables and Siemens Gamesa Renewable Energy, we will focus on the need for governments to commit to new and increased volumes for offshore wind deployment in Europe. The recent results of the first German offshore wind tender show why Governments need to up their ambition on offshore wind. Sure, the "zero subsidy" achieved in the tender for 1.4GW is not a new norm. But the results confirm last year's trend of rapidly falling offshore costs. And politicians need to sit up and take notice. Clarity over future projects in European waters is now essential for the industry to drive costs further down.
The conference will offer a first-hand view of the latest trends and technologies and the opportunities and challenges facing offshore wind. The 30+ sessions and 150+ speakers will cover topics such as auctions and new finance models; floating and next generation technologies; win-win synergies with oil and gas industries; and future frontiers for offshore development (China, US, Taiwan and more).
At the exhibition you'll find over 400 exhibitors. An excellent opportunity to network with key figures who are at the forefront of the industry. If you haven't done so yet, can I urge you to register here for the conference and exhibition.
The second big opportunity is the WindEurope Open Day in our offices in Brussels on 29 June. This is a chance to:
get to know the WindEurope team that works daily on your behalf to shape energy policy. The staff will give a series of presentations on different aspects of their work;
visit the European Parliament and learn how Brussels affects your activity;
talk to WindEurope Board members who drive our strategic agenda; and
party and network with 300+ other key industry and other players at our annual summer reception in the evening of 29 June.
In short the Open Day will be a chance to learn how to make the most of your membership. You can register here.
The third and final thing I want to flag is WindEurope's annual report on the financing of wind to be published this week on our website. Wind energy attracted more investments than any other power technology in Europe in 2016 and broke several new records. €43bn were raised for the construction of new wind farms, refinancing operations, project acquisitions and public market financing. Major IPOs raised €5.2bn in 2016 – the highest level in the last seven years. The report tells the full story.
– Giles Dickson
CEO, WindEurope

Want to read more and receive our regular newsletters?