7 November 2017
Interview with Alberto Conde, founder and CEO of NEM Solutions
Can you tell our readers a little about your organisation?
At NEM, we wish to ease the way to a more accessible, connected and sustainable world for the future generations. Our main objective is to help our clients control their assets and anticipate their future needs.

Using data assets, NEM Solutions improves business productivity, extending the life-cycle and generating new knowledge that increases our customers' competitive advantage. We transform digitalisation processes and advanced analytics into a unique, revolutionary and memorable experience in the Energy and Mobility sectors. With our patented predictive technology AURA, we are able to offer a collaborative and close environment for decision-making processes in the spheres of operations and maintenance.

We started in the Wind industry in 2010, working together with Iberdrola on our first project in Spain. Since then, we have been working worldwide with thousands of wind turbines which have been supervised by AURA to avoid future failures. In the process, we generate millions in savings for our customers. We work closely with operators and owners of the industry and between OEMs such as Siemens Gamesa RE, who invested in us once they tested our return of investment.
What are the most exciting developments you have seen in the wind industry?
Nowadays data is the new oil. By using operational data we are seeing how companies can predict their future, avoiding risk and uncertainty in ways that were inconceivable only a few years ago. Together with offshore expansion and the new size of wind turbines, the digital environment and cultural transformation of the wind sector is very interesting.
What changes would you like to see in the wind industry?
I'd like to see more cooperation between players to accomplish the common goal of increasing the renewable generation of consumed electricity. We all know that this is a very competitive business but what should be definitive for us all is to become a greener society and to allow a closer connection between the industry and people.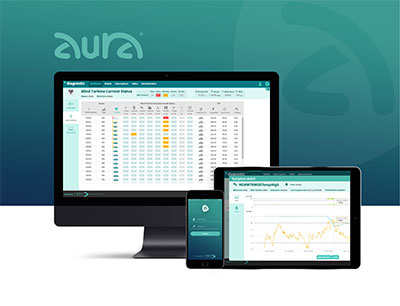 Going forward, what role do you see your organisation playing in the future development of wind energy?
We are helping our customers secure their business plans and even improve them. We save millions of euro thanks to our AURA platform which predicts the future of wind turbines. Using available data we can create future scenarios of what is going to happen, allowing the end user to make the best decision in each moment. Looking ahead, I would like our children to enjoy a better environment and, if we can help with that, we will be happy with our contribution.
How has WindEurope membership benefited your organisation?
WindEurope allows us to be in touch with other colleagues, to be involved in the European Wind network and to address our shared challenge to make our environment greener.
If we look ten years ahead, what do you hope to have achieved?
In ten years we should see a more efficient industry, fully transformed into a digital scenario, with close relationships between technology and people. I would also hope for an energy mix between offshore and onshore technologies that is capable of covering a representative part of our energy consumption in Europe. As I said before: our highest goal should be related to making a better world for future generations.
---
Find out more about NEM Solutions