10 January 2019
WindEurope Bulletin January 2019 Foreword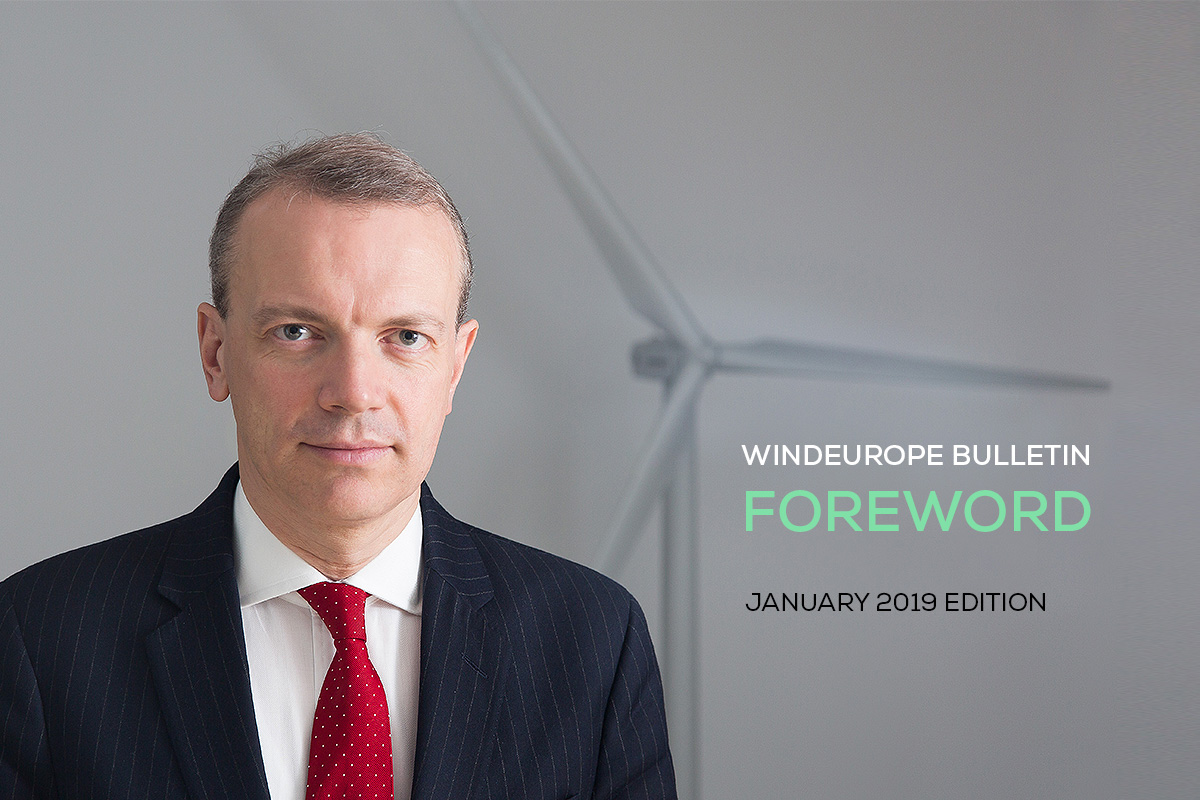 CEO Foreword
Dear WindEurope Member,
Can I begin by wishing you the very best for the New Year. I hope you had a good break.
Our Chairman Ivor Catto wrote to you earlier this week to send you the WindEurope Work Programme for 2019. Among our extensive goals this year, he highlighted 3 must-win priorities:
The National Energy and Climate Plans, which define our markets for the next 10 years;
Permitting, which getting harder in most countries; and
Communicating the economic and community benefits of wind, not least in a year where we have European Parliament elections and a new Commission.
Let me say a bit more about each of these;
The National Energy and Climate Plans: You'll recall that Governments had to send the first drafts of these to the EU Commission by the end of December 2018. And most of them did. We're now reviewing the plans. Next month I will tell you more about how ambitious we think they are. We're working closely with the EU Commission to beef up those that are not ambitious enough. The Commission will send their first reactions to the national Governments in April and will then have a series of parallel bilateral discussions with each Government before the Plans are finalised by the deadline at the end of 2019. We will keep you posted on how all these discussions are going and tell you where we need your help in pushing certain countries to be more ambitious. Remember these are 3 main targets: get governments to commit to ambitious wind volumes to ensure we're on track to meeting the binding EU 2030 target of 32% renewables; asking countries to include how they're going to deal with wind farm end-of-life issues; plus how to get more renewable electricity into heating, transport and industry.
Permitting: As you know, the process to obtain a permit for a wind farm in many countries is getting longer and more expensive. It's a real challenge and risks putting the brakes on the future expansion of wind in Europe. New EU rules require permits to be awarded (or rejected) within 3 years of initial application – and 2 years for repowering projects. And they require every country to have a one-stop shop for awarding permits. We'll be working to ensure the EU enforces these rules. And we want to ensure maximum possible "common sense" alignment in the different national rules on e.g. distance, top/hub heights and noise. We will link this to our wider work on promoting 'happy co-existence' between wind and other economic and societal interests – and continued (in some places increased!) public support for wind;
Communications: We have good tools now for communicating both and macro- and micro-economic benefits of wind, including how local communities benefit. We need to deploy these heavily in 2019 and step up our outreach to the general public. As I mentioned in my Christmas message to you, 2019 is a big year for European politics. We have European Parliament elections in May, then a "changing of the guard" in the EU Commission. Populist forces who don't like renewables could end up with far more influence than they have today. Both before and after the elections, we'll be fighting the myth that wind power and system integration cost too much. And we'll push renewables-based electrification as the central solution to climate change. Mobilising people to vote will be key, starting with our own industry's 300,000 employees. We are working up a plan for this which we'll share with you in the coming weeks.
Ivor highlighted our 3 big events this year. In light of the European elections, let me say a bit more about the first of our major events: our annual on- and offshore event in Bilbao on 2-4 April. Preparations are in full swing. Registrations will open and the programme will go live next week. Because the event takes place in the build-up to the European elections, we will be focusing on the benefits wind energy brings to people on local, regional and national levels. This is also one reason why we are holding our event in Spain. Spain is a clear example of how, with the right policy and vision in place, wind energy can deliver for people. Spain's wind industry already employs 22,000 people, and this is set to grow by over 9,000 this year; Spain is installing over 4 GW of onshore wind by 2020 and the Government plans to build 2.5 GW a year up to 2030; they are also making new forays into offshore wind including floating;
Both the Spanish and Portuguese Energy Ministers will be speaking at the Bilbao event. All the key players in the onshore and offshore industry will be there. Iberdrola are hosting our annual Members' Reception. And the gala dinner will be in the Guggenheim Museum. There is still some space left on the exhibition floor and some speaking slots left in the conference, so do let us know if you want to take part.

– Giles Dickson
CEO, WindEurope
Want to read more and receive our regular newsletters?