13 November 2019
WindEurope Bulletin November 2019 CEO Foreword: "Final countdown to Offshore 2019 in Copenhagen"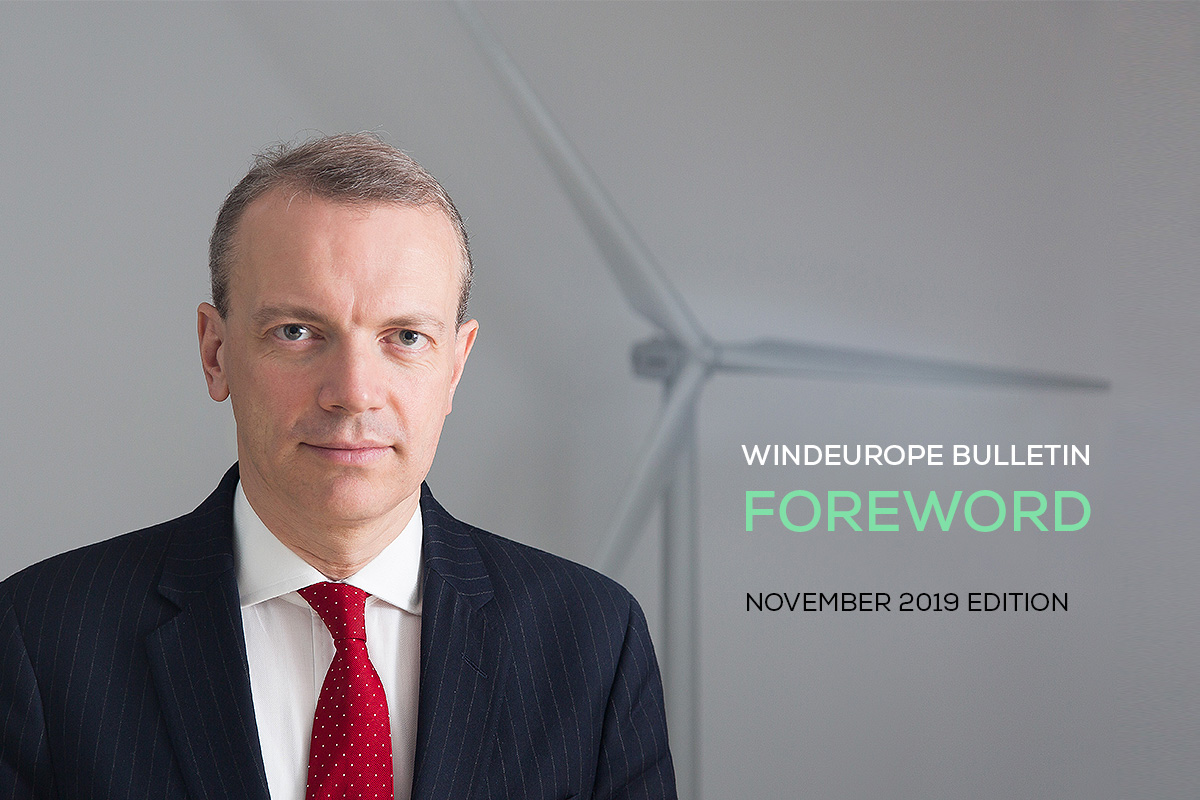 CEO Foreword
Dear WindEurope Member,
These are tough times. Our supply chain remains under pressure, and we continue to lose jobs, not least in Germany. But good things are happening too. Spain, Sweden and Norway are installing record amounts of onshore wind. Poland is about to do a 2.5 GW onshore auction. And lots is happening on offshore wind.
Many of you will have seen the big IEA report on offshore wind, which says offshore wind will be the number 1 source of power in Europe by 2050 (at 22%) with onshore wind number 2 (at 19%). The report is actually a bit conservative on offshore volumes for 2040. They see only 130-180 GW by then, when we're pretty confident we'll already have 90 GW by 2030. And let's not forget, the EU Commission's eight scenarios for 2050 envisage between 230 and 450 GW by 2050.
Which brings us to Europe's premier offshore wind energy event, WindEurope Offshore 2019 in Copenhagen. There are just a couple of weeks left till we meet in Copenhagen, and it's going to be a great event. There'll be 9,000 attendees and over 250 speakers. For our second event running, we'll be opened by royalty in the form of Danish Crown Prince Frederik. The Danish Prime Minister Mette Frederiksen is also coming. And we'll have Ministers and top officials from France, Germany, Poland, Lithuania, the Netherlands and Germany. Plus the great renewables champion, Luxembourg Energy Minister Claude Turmes.
In Copenhagen we will launch a new report "Our energy, our future How offshore wind can help Europe." This will focus on what needs to happen to deliver 450 GW of offshore wind by 2050. On marine spatial planning, grid connections and the supply chain. The report will break down how much offshore wind each country needs to install by 2050.
The Copenhagen exhibition is sold out and will have 430 exhibitors, showcasing the entire offshore value chain. Special areas include: the Safety, Skills & Training Zone, a 200m² area displaying the industry's commitment to an injury-free working environment in offshore wind; the Global Markets Theatre where international experts discuss what's happening globally in offshore wind, and an Innovation Park where start-ups and EU projects can show their work.
As always there will be plenty of social events. Take note especially of the WindEurope Members' Reception and the Gala Dinner. And register for them as soon as possible so you don't miss out.
Finally, in case you missed it, we launched a fun video to welcome new MEPs and their officials to Brussels – and to encourage them to work with WindEurope.
I look forward to seeing you in Copenhagen on 26-28 November.

– Giles Dickson
CEO, WindEurope
Want to read more and receive our regular newsletters?