Innovation Park
Get connected with a Start-up or European Project!
The wind industry needs fresh voices and exciting ideas to tackle the challenges of the energy transition. The Innovation Park is where you'll find the start-ups and innovative projects transforming how wind works.
Come hear their pitches right on the exhibition floor (Hall E). The Innovation Park gives start-ups great visibility and gives you excellent networking opportunities with new players.
Powered by:
Time
Day 1 (26 Nov)
Day 2 (27 Nov)
Day 3 (28 Nov)
09:30 – 10:00

Sennen Tech Ltd

GBM Works b.v.

10:00 – 10:30

YOUWINd

YOUWINd

YOUWINd

10:30 – 11:00

Wind Power LAB A/S

ELISA

ELISA

11:00 – 11:30

PROMOTioN

PROMOTioN

PROMOTioN

11:30 – 12:00

X1 Wind

X1 Wind

X1 Wind

12:00 – 12:30

ROMEO

Fibersail

Fibersail

12:30 – 13:00

ROMEO

ROMEO

13:00 – 13:30

ENERGY INNOVATION CLUSTER

Sensorise GmbH

Sensorise GmbH

13:30 – 14:00

InnoEnergy – Keynote

InnoEnergy – Keynote

WTS-Wind Turning Systems GmbH

14:00 – 14:30

ELISA

Wind Power LAB A/S

Wind Power LAB A/S

14:30 – 15:00

ZEVIT

GBM Works b.v.

ZEVIT

15:00 – 15:30

GBM Works b.v.

ZEVIT

Sennen Tech Ltd

15:30 – 16:00

Akrocean

Akrocean

Akrocean

16:00 – 16:30

Fibersail

ENERGY INNOVATION CLUSTER

ENERGY INNOVATION CLUSTER

16:30 – 17:00

Sennen Tech Ltd

NETWORKING DRINKS

Powered by:


17:00 – 17:30

Sensorise GmbH

17:30 – 18:00

WTS-Wind Turning Systems GmbH

18:00 – 18:30
Your benefits
Dissemination
Branding and visibility
Networking
Your own dedicated exhibition space where you can showcase slides, give information and hand out flyers/reports on project activities
A guaranteed speaking slot on the presentation stage
Printed logo on your counter
Entry in the exhibitor catalogue
Listing on the online exhibitor list
Dedicated page on our event website
Social media coverage
Opportunity to reach out to a large and broad audience
Meeting spaces
Connection with other innovative projects
Consortia building opportunities for future projects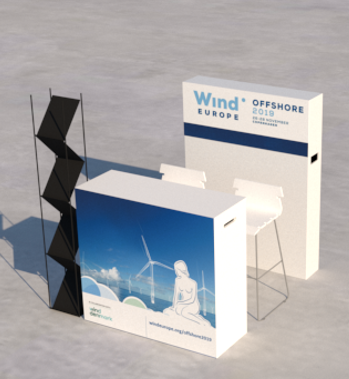 The package
2 exhibitor staff passes
Furniture (welcome counter and 2 chairs)
Your logo printed on the counter
Space for your banner
Speaking slot on the pavillion's stage (30 minutes, every day of the event)
Additional equipment can be ordered separately (AV, furniture, catering, etc.)
Contact
WindEurope Sales Team
E-Mail: [email protected]
Telephone: +32(0) 2 213 1830, +32(0) 2 213 1848