8 November 2017
WindEurope Bulletin November 2017 Foreword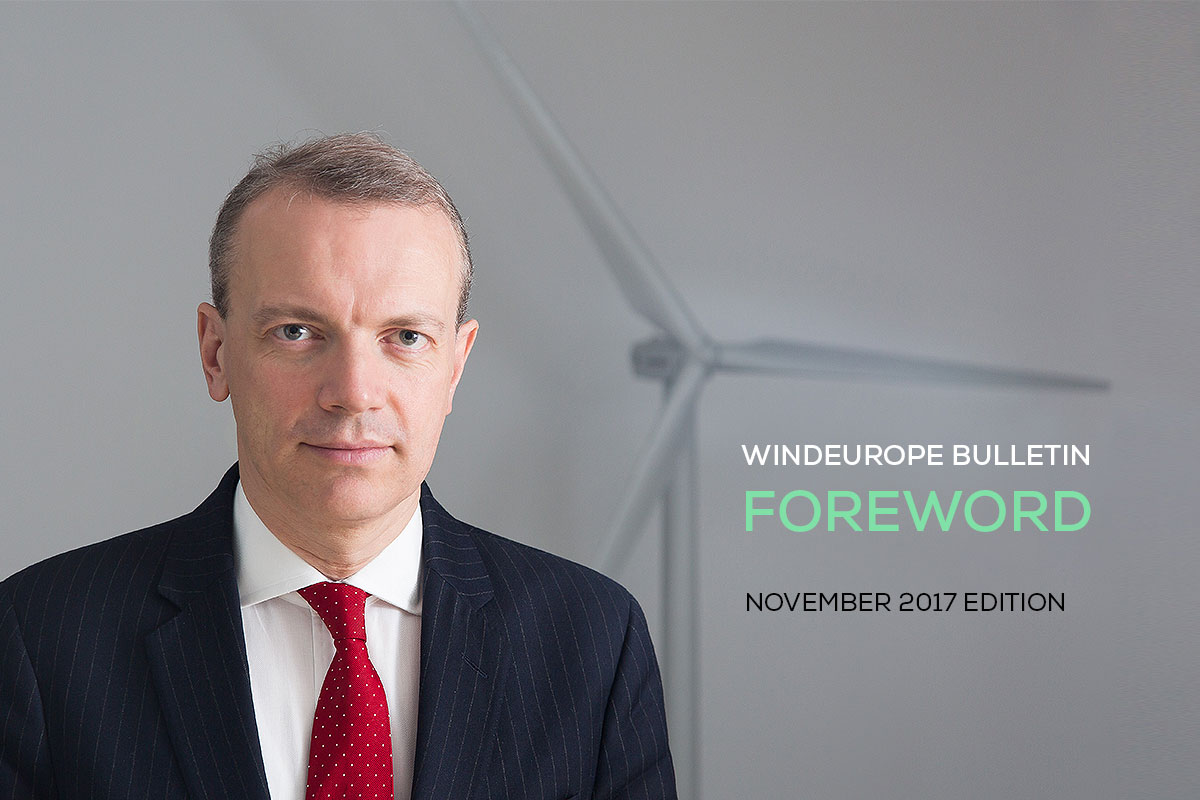 CEO Foreword
Dear WindEurope Member,
It's November and that means that our annual Conference & Exhibition in Amsterdam is almost upon us.
The reforms that will determine the shape of Europe's energy market in the decade up to 2030 are currently under discussion in Brussels. As Europe heads towards agreement on its Clean Energy Package next year, the industry is convening in Amsterdam to share its vision for the future of wind.
The slogan this year is 'Local impact, global leadership'. It reflects both the local economic benefits of wind energy and also the European wind industry's leading role on the global stage. Amsterdam will also launch our flagship report "Local impact, global leadership". It takes an in-depth look at the impact our industry has on jobs and growth in Europe as well as its substantial export footprint.
We have a full programme in store for the Amsterdam event. There are more than 40 conference sessions covering market and technology developments in onshore and offshore wind, system integration, finance and government policy. There is the usual exhibition (10,000m²) showing the latest equipment and technology. And there will be a range of side events with key outside stakeholders covering eg aviation/radar, health and safety and data exchanges with meteorologists.
WindEurope's newly-elected Chairman and CEO of RES Group, Ivor Catto, will open the event. Then we'll have the Energy Ministers of Lithuania and Estonia. The former is steering through an ambitious new energy strategy with a sharp increase in renewables. The latter is leading the EU discussions on the Clean Energy Package as Estonia have the EU Presidency right now.
We'll also hear from the CEOs of our Event Ambassadors – Enercon, Siemens Gamesa, Vattenfall and Vestas – who will give their take on industry trends and debate where the industry is headed.
The conference is then hosting the EU Commission's North Seas Energy Forum. Energy Directors General from the Netherlands, Belgium, Denmark and the Commission will swap notes with industry players such as TenneT, Shell and Vattenfall on progress made since the North Seas cooperation agreement signed by ten countries in June 2016.
There will be numerous networking opportunities and side events, including a gala dinner in the magnificent grounds of Amsterdam's Maritime Museum.
Finally, we'll be doing our first WindEurope "hackathon." Together with InnoEnergy, we're organising 'Hack the Wind', a hackathon bringing together designers, developers, wind energy experts, data scientists and analysts. They will have the chance to work with Envision's IoT platform and datasets to innovate and shape the future of wind energy. There's a generous prize for the winners!
Be sure to join us in Amsterdam. I look forward to seeing you there. If you haven't registered yet, you can do so here.
– Giles Dickson
CEO, WindEurope

Want to read more and receive our regular newsletters?