4 June 2020
WindEurope Bulletin CEO Foreword on what the EU's Recovery Strategy means for wind energy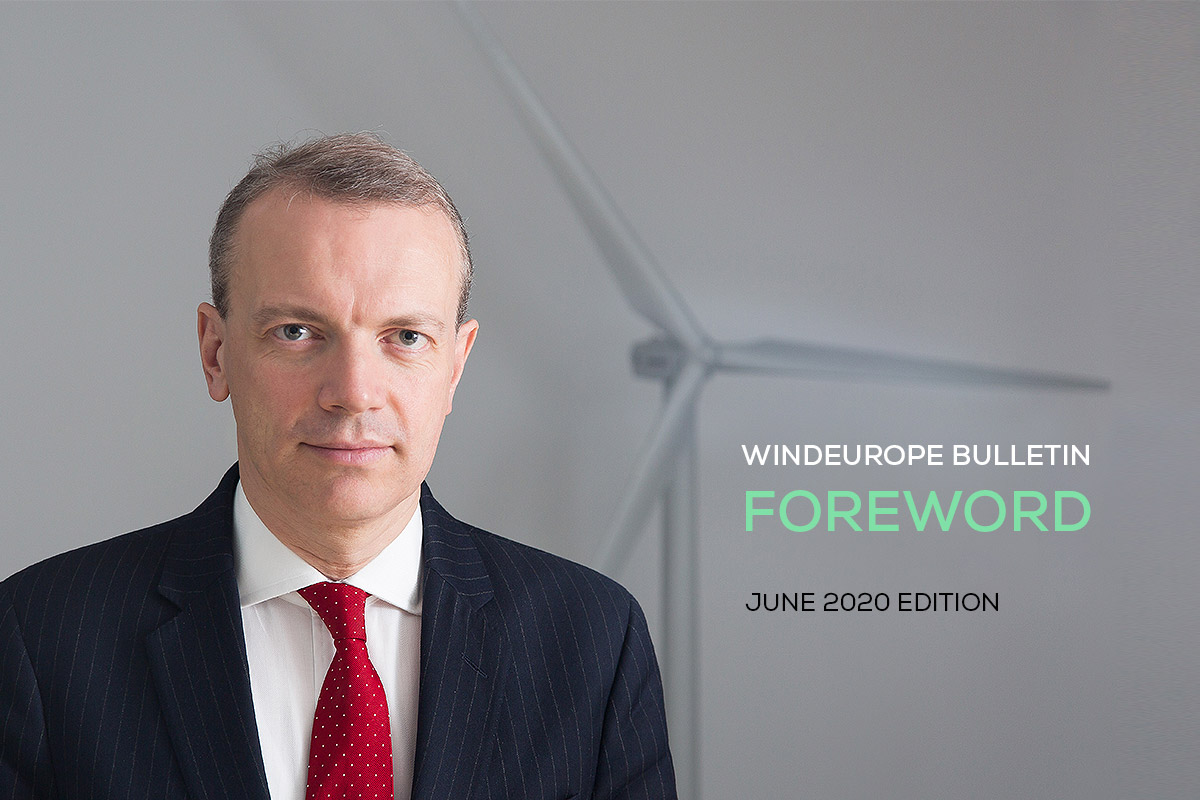 CEO Foreword
Dear WindEurope Member,
Last week the European Commission tabled its long-awaited "Recovery Strategy". It is good news for our industry. The Strategy's two elements – a new EU Budget for 2021-27 and a new Recovery Fund – amount to €1.85tn of total investment. And the right sort of investments, too: the EU clearly want a green recovery.
This a boost for the energy transition. And the Strategy also singles out wind energy as one of the 'policy fundamentals of the recovery'. The EU wants wind to be half of Europe's electricity by 2050. That means huge investments, jobs and growth. This is a tremendous opportunity for our industry – but it also brings huge responsibility. Put simply, we need to deliver on this. We'll be keeping you up to date on all of the detailed proposals that'll help make these investments happen. Watch this space.
Yesterday we held a press conference with Hamburg Messe und Congress on the decision to postpone our joint event, WindEnergy Hamburg, until 1-4 December. The EU's Recovery Strategy adds a new dimension to the event. The further expansion of wind energy is central to Europe's economic recovery and to the EU Green Deal. Hamburg is a key hub for our industry and it will be good time and place to showcase the jobs and investment that we can contribute to both. And the event will take place while Germany still has the Presidency of the EU. The situation on the ground is still evolving of course – and we are adapting our planning according to the circumstances. We will keep you posted on the details of the event as they develop.
Staying on events: our first ever fully online technology workshop takes place next week. As you know, our Tech Workshop on Resource Assessment & Analysis of Operating Wind Farms was moved fully online in the wake of the COVID-19 crisis. The 4-day event starts next Monday, 8 June. You can see the complete programme for it here – be sure to register in advance.
Finally, allow me to invite you to our next online Annual General Assembly which takes place later this month. The AGA will be on 24 June, from 16:45 – 18:15 CEST. If you wish to register, please contact us here. Do join if you can.
Take care.

– Giles Dickson
CEO, WindEurope
Want to read more and receive our regular newsletters?