18 June 2019
WindEurope Bulletin June 2019 CEO Foreword on our summer events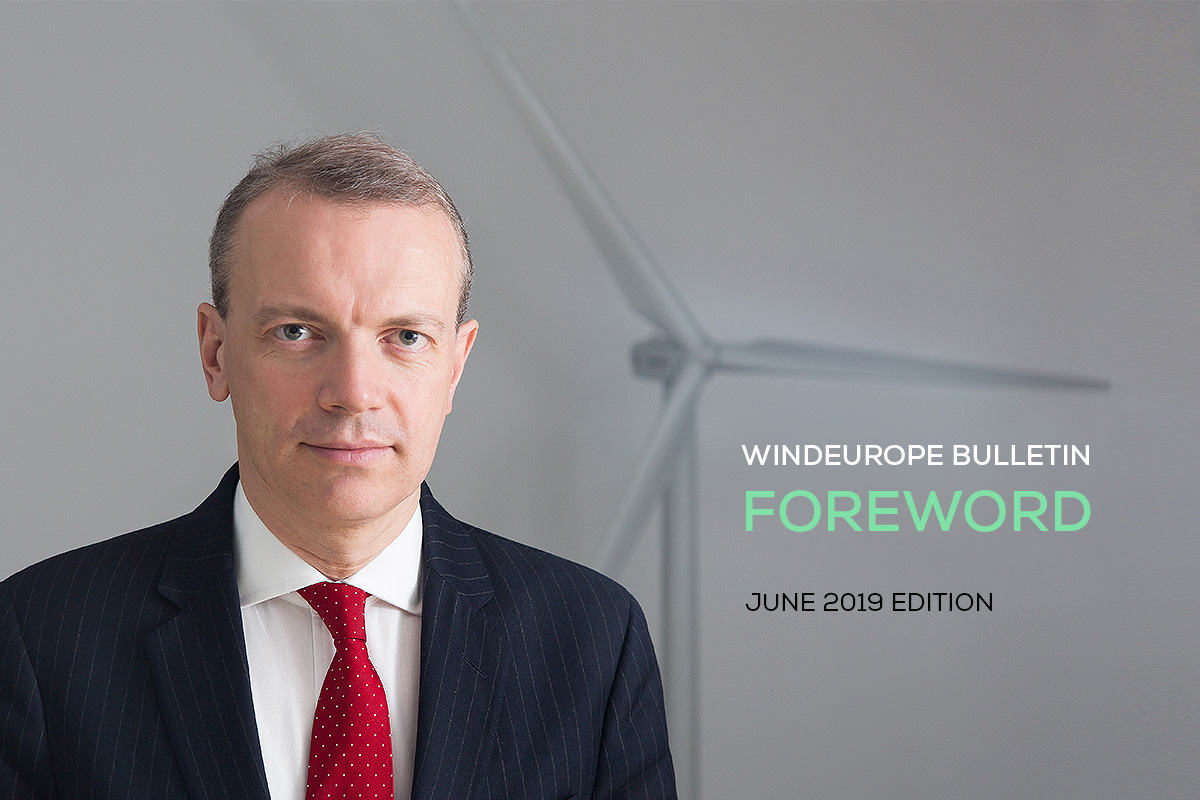 CEO Foreword
Dear WindEurope Member,
Our Annual General Assembly is coming up – on Tuesday 25 June. So is our summer reception – also on 25 June. And on Wednesday 26 June we're doing a members' Open Day to inform you about all the activities of WindEurope.
The same week, on Monday 24 June we have our first ever Offshore Supply Chain Workshop. This will look at how to ensure a rapid and optimal build-out of offshore wind in Europe.
And at the end of that week we have our Resource Assessment Technology Workshop (27-28 June). The focus will be on how to reduce uncertainty about wind volumes with better models and validation tools.
I hope you'll be able to come along to one or more of all of these events. You can find more information about them here.
A brief word on the Summer Reception. We're doing it jointly with the European Chemical Industry Council (CEFIC), who are in the same building as us now. But we're also teaming up with them because of the increasing interest from heavy energy consumers – such as chemicals – to buy wind through Power Purchase Agreements (PPAs). Heavy industry is by far the largest buyer of wind PPAs: they've signed more than 2 GW worth of deals with wind in the last five years alone. It helps them cut their emissions and get cheaper power, so it makes sense. We're also set to formalise our work with CEFIC on recycling. More on that soon.
I'm sure you will have seen the results of the European Elections at the end of last month. Voter turnout – which had been declining since elections to the Parliament began – was 51%. That's the highest it's been for the last 20 years. Thanks to your support – sharing our 'go vote' campaign internally and externally – we managed to communicate the importance of voting amongst the 300,000 people who work in wind energy in Europe and to a wider audience too. The campaign slogan 'For more renewables, vote in the European elections,' really spoke to people about the importance of using their vote to make an impact.
Overall, the results are positive for wind. With the rise of the Greens and Liberals – together with the Socialists and the Centre-right – we can expect a European Parliament that is generally 'renewables-friendly'. In the short-term the most pressing issue for the Parliament is to decide who will be the new European Commission President. This, and the linked decisions on the Council and European Central Bank President, are crucial to the future direction of the EU and its policies. We'll keep you informed of developments as we know more. But in the meantime you can already read our priorities for the next European Parliament or watch our video explainer.
Looking ahead to our events this autumn, registrations for our End-of-Life Issues and Strategies Seminar in Leuven are open now. Registrations for our RE-Source event on corporate renewable power purchase agreements also opened this month.

– Giles Dickson
CEO, WindEurope
Want to read more and receive our regular newsletters?