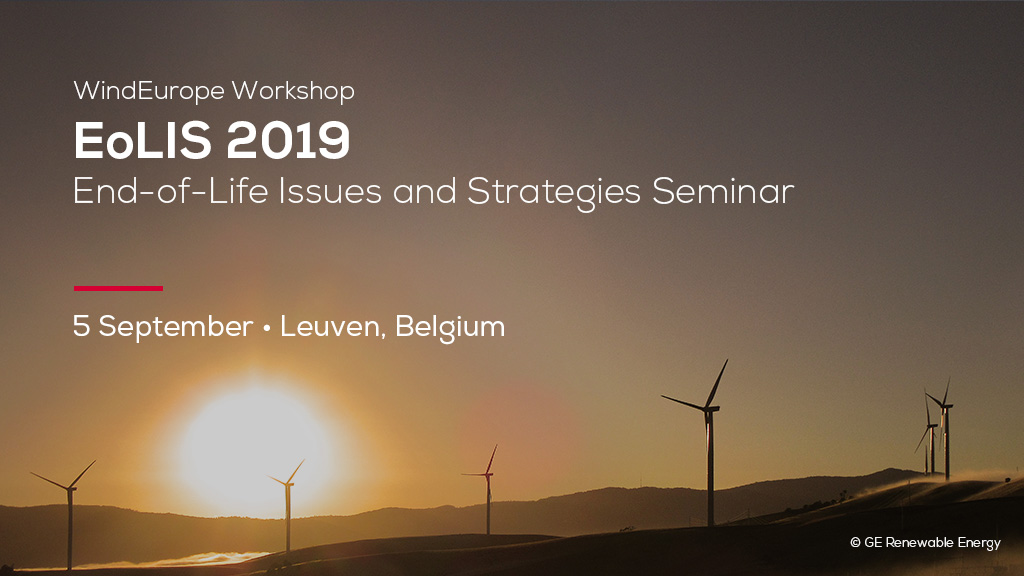 A significant share of Europe's wind turbine fleet will come to the end of its projected lifetime within the next 10 to 15 years. In order to fulfill Europe's long-term decarbonisation agenda, the share of wind energy in the energy mix needs to grow further, and this outgoing generation capacity will have to be replaced.
But this process is not as straightforward as it could seem.
The first edition of WindEurope's End-of-Life Issues and Strategies (EoLIS) seminar will bring together industry and academic experts to discuss the way forward.
Our one-day programme will tackle policy and permitting issues as well as technology challenges, with in-depth sessions on lifetime extension, repowering, decommissioning and recycling.
Save the date, register below and visit this page regularly for updated information!
Register nowSee the ProgrammeSave the date
---
Sponsors
Premium Sponsor
About GE Renewable Energy
GE Renewable Energy is a $15 billion business which combines one of the broadest portfolios in the renewable energy industry to provide end-to-end solutions for our customers demanding reliable and affordable green power. Combining onshore and offshore wind, blades, hydro, storage, utility-scale solar, and grid solutions as well as hybrid renewables and digital services offerings, GE Renewable Energy has installed more than 400+ gigawatts of clean renewable energy and equipped more than 90 percent of utilities worldwide with its grid solutions. With nearly 40,000 employees present in more than 80 countries, GE Renewable Energy creates value for customers seeking to power the world with affordable, reliable and sustainable green electrons.