2 April 2020
WindEurope Bulletin April 2020 Foreword on COVID-19 and the EU Green Deal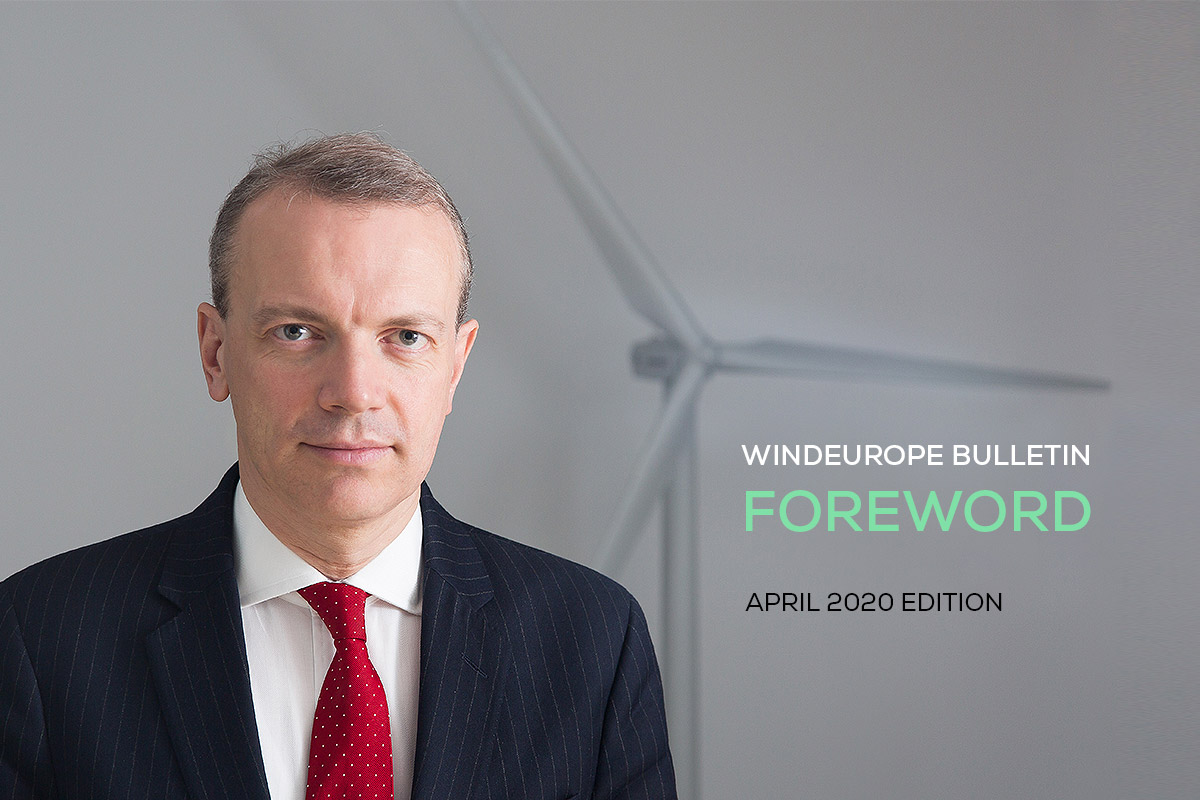 CEO Foreword
Dear WindEurope Member,
This has been a month like no other. Let's take stock of where we are and look at where we may be going.
As you know, we have launched a COVID-19 Information Hub to update you on ongoing developments that affect our industry. It's a one-stop shop where you will find constantly updated information on everything about wind energy and COVID-19: impacts on the supply chain and on energy policy and regulation; measures governments are taking on the free movement of people and goods; and the economic relief they're offering and stimulus packages they're preparing. The Information Hub is, of course, evolving with the situation on the ground. So please share any information you feel we should be including in it.
Most of Europe's wind turbine and component factories continue to operate. Some factories have temporarily paused activity to address government Health and Safety recommendations. The pressures on the supply chain are significant, and we are urging the EU and, through the National Wind Associations, national Governments to take all possible measures to support the continued operation of our plants. And, of course, the continued operation of our construction sites. And, perhaps most crucially of all, the operation and maintenance of Europe's existing wind farms. In Spain and Italy most factories are now closed. The latest Spanish decree defining essential activities has an exemption allowing companies to continue with limited manufacturing of essential new equipment. In practice this means manufacturers are drastically limiting the number of people in the factories and applying enhanced Health and Safety protocols. But it is critical that this minimum level of activity is allowed to continue. Fully stopping would mean our global wind supply chain is paralysed and post COVID-19 recovery is all the more challenging.
However, many of you will have seen that politicians in some countries are saying we can't afford the energy transition now. They think that the EU should put its "Green Deal" on hold. Certainly, all Governments are distracted to some extent – that's understandable. But those that had ambitious plans for renewables want to stick to them. The impact of COVID-19 means a slowdown in certain EU processes: the Parliament is working remotely, and the Council is having no in-person meetings. But the EU has made it absolutely clear that the Green Deal not only has to continue, but that the jobs and growth it offers make it the best source of economic recovery out of the crisis.
We will continue to step up our lobbying on this last point. And ensure that the recovery packages that all governments are putting together have clean energy investments at their heart. The EU is preparing its own Recovery Plan, and we are feeding in ideas. And by relaxing state aid and debt/deficit rules, they are giving national Governments fiscal headroom to support industry and run their own ambitious recovery plans.
I told you last week that we intended to use the current period to strengthen the profile of wind and to increase understanding among our stakeholders of what wind offers. In particular, now is the time to address the challenges we face to deliver the huge expansion of wind energy envisaged in Europe. Our "Sofa Talks" webinars are proving a success, with EU policy-makers and other key people tuning in.
On the events side, our Tech Workshop on Resource Assessment & Analysis of Operating Wind Farms has been moved fully online and will take place on the 9-10 June. Full details about that further below, in the Events section of the Bulletin. As of the time of writing, all our other events remain scheduled to go ahead as planned. You can find out more about them below.
Finally, I wish to thank you all again for the input you are giving us on so many different fronts – whether related to the current situation or to the planned and ongoing work of WindEurope. I am pleased to say that our work at WindEurope continues smoothly, thanks to your continued input and support. Do keep letting us know if there are any issues we can help you with. Our staff remain at your full disposal – do not hesitate to contact us if there is anything we can help you with.
Take care.

– Giles Dickson
CEO, WindEurope
Want to read more and receive our regular newsletters?