Why is sustainability important in the wind industry?
Expectations from external stakeholders (customers, authorities, politicians etc.) are increasing. We are expected to act in a socially and environmentally responsible way by keeping our carbon footprint and environmental impacts to a minimum, use the best available technology, create little to no waste and work in sustainable supply chains.
By collaborating across company borders we are able to share experiences, best practices and identify innovative ways of designing, planning, building and maintaining wind farms, ensuring that, even in the early stages of a project, we consider all aspects of sustainability. As a result, wind energy will become even more competitive and at the same time an even more sustainable option for a low carbon future.
Accelerating wind turbine blade circularity
Wind turbines are made up of composites materials that boost the performance of wind energy by allowing lighter and longer blades with optimized aerodynamic shape. Today 2.5 million tonnes of composite material are in use in the wind energy sector globally.
Around 85% to 90% of wind turbines' total mass can be recycled. Most components of a wind turbine – the foundation, tower and components in the nacelle – have established recycling practices. However, wind turbine blades are more challenging to recycle due to the composite materials used in their production. While various technologies exist to recycle blades, and an increasing number of companies offer composite recycling services, these solutions are yet to be widely available or cost-competitive.  
Around 14,000 wind turbine blades will be decommissioned by 2023. This amount will continue to grow considering that:
The standard lifetime of a wind turbine is approximately 20-25 years, with some wind turbines now reaching up to 35 years through lifetime extension;
There are increasing repowering opportunities i.e. replacing old models with newer and more efficient models.  
Distribution of age of the onshore wind fleet, as of August 2019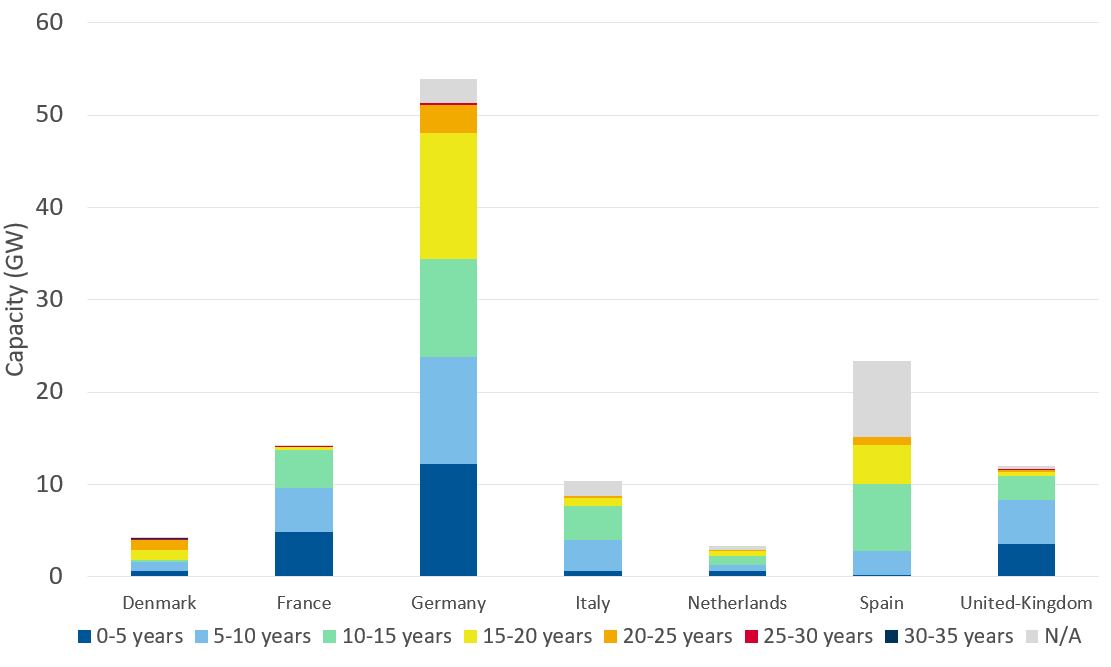 However, the wind industry produces far less composite waste than other industries. Based on EUCIA's estimates, wind will contribute 66,000 tons of waste in 2025. This is only 10% of the total estimated thermoset composite waste. Composite recycling is a cross-sector challenge and not solely a challenge for the wind industry. Actually the (low) volumes of composite wind blade waste makes it challenging to build a recycling business based mainly on this waste stream. An active engagement from all the composite-using sectors and authorities will be required to develop cost-effective solutions and strong European value chains.
Today, the main technology for recycling composite waste is through the cement kiln route, also known as cement co-processing. Cement co-processing is commercially available for processing large volumes of waste (albeit not in all geographies yet). Further development and industrialisation of alternative thermal or chemical recycling technologies may provide composite using sectors, such as building & construction, transportation, marine and the wind industry with additional solutions for end-of-life.
Europe needs to invest on more research and innovation funding to diversify and scale up composite recycling technologies, to develop new , high performance materials with enhanced circularity, and to design methodologies to enhance circularity and recycling abilities of blades. At the same time existing treatment routes like cement co-processing must be deployed more widely to deal with the current waste streams. Finally, the scientific understanding of the environmental impacts associated with the choice of materials and with the different waste treatment methods should also be improved (life cycle assessment).
Cross-sector platform
As the wind industry continues to grow to provide renewable energy across the globe, we are committed to promoting a circular economy which reduces environmental impacts throughout product lifecycles at the same time. WindEurope, Cefic (the European Chemical Industry Council) and EuCIA (the European Composites Industry Association) have created a cross-sector platform to advance approaches for the recycling of wind turbine blades, including technologies, processes, waste flow management, reintegration in the value chain and logistics.
Key documents
For question, please contact
[email protected]