11 September 2017
WindEurope unveils new long-term events strategy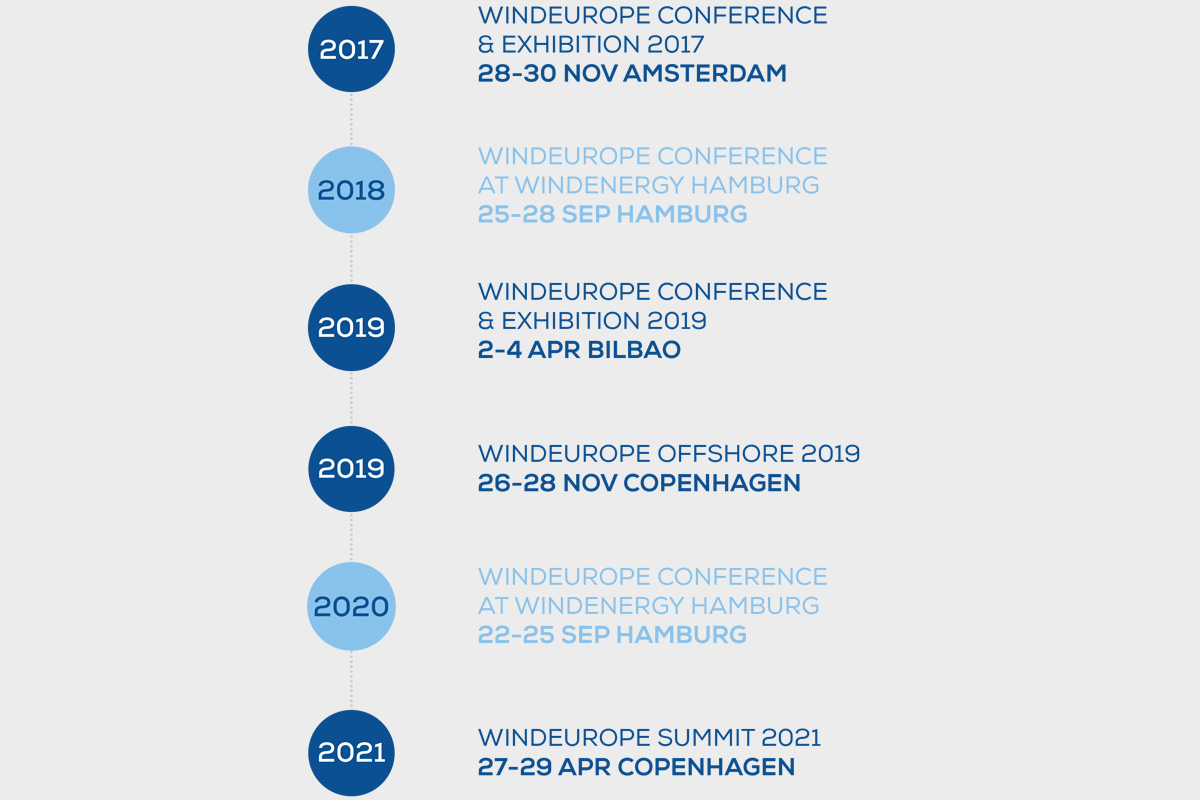 In collaboration with the wind energy industry's major players, WindEurope today unveiled its new long-term events calendar.
Together with its members and long-standing partners, WindEurope has developed an extensive events strategy to address the needs of what is a highly dynamic and innovative sector.
The WindEurope events, comprising both a vibrant industry exhibition and a cutting-edge conference, will take place in the best European destinations. Enercon, Siemens Gamesa Renewable Energy, Vattenfall and Vestas are the strategic partners for the 2017 event this November in Amsterdam, while the 2018 conference will take place in combination with the WindEnergy Hamburg trade fair in September. Bilbao will be home of the 2019 industry get-together, with Acciona, Iberdrola and Siemens Gamesa Renewable Energy being the hosting partners, while Copenhagen will turn into the Offshore wind capital, holding WindEurope's Offshore 2019 conference and exhibition.
The wind industry has supported the association's events over the past 35 years, during which time wind energy has grown and matured enormously. The WindEurope's events bring together the worlds of business, politics, science and innovation. These events, in turn, help to fund the activity of the association, enabling WindEurope to represent the whole industry and engage governments and other stakeholders on the industry's behalf.
"We drew up the new strategy in close collaboration with major players in the industry. It is a logical step that reflects the evolving needs of the dynamic wind industry," said WindEurope CEO, Giles Dickson. "The impact of WindEurope's industry gatherings stretches well beyond the last day of the event. All the learning, contacts and revenues from our events we reinvest in the association's advocacy work, which helps shape policy and regulation to the benefit of our industry and wider society".