8 July 2021
WindEurope Deputy CEO Bulletin Foreword on the launch of Windflix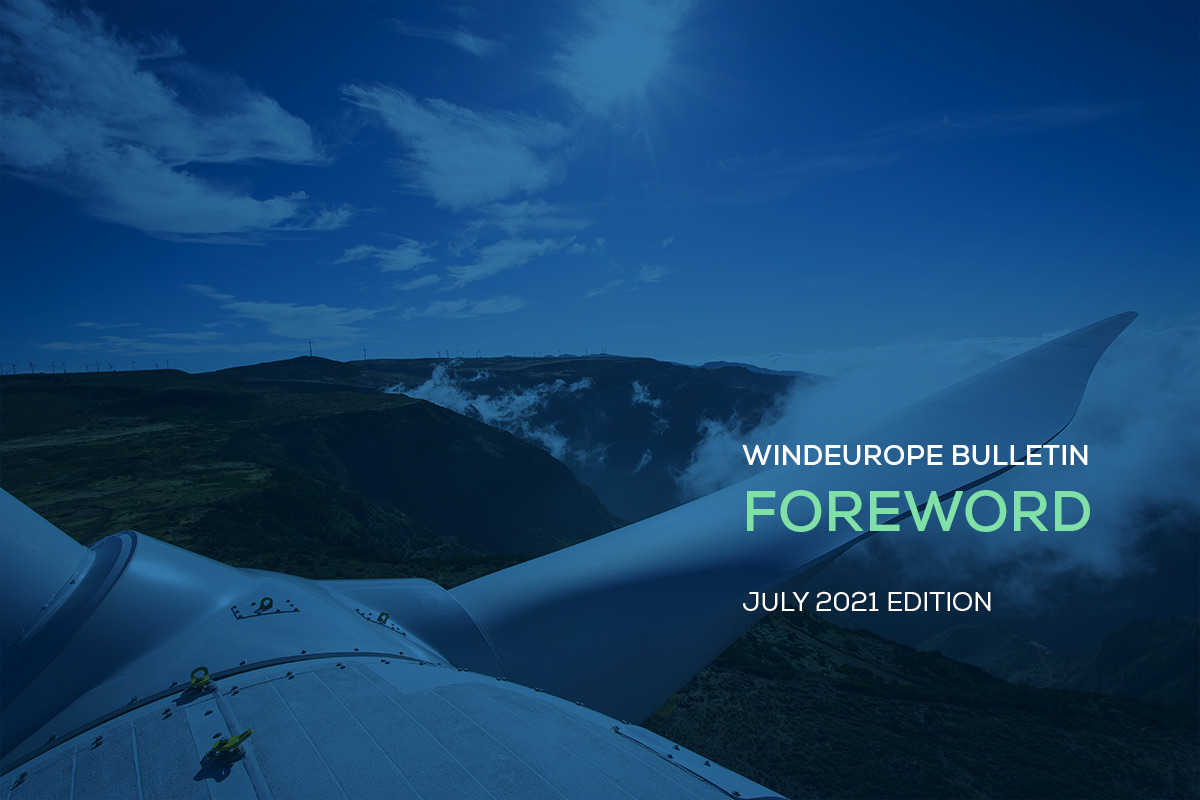 Deputy CEO Foreword
Dear WindEurope Member,
You may have seen that last month WindEurope called for a Europe-wide ban on landfilling decommissioned wind turbine blades by 2025. While we gear up to deliver the big wind volumes Europe wants under the Green Deal, we must prepare for increased scrutiny on the environmental impacts of our activities. Not least by working towards the full recyclability of our wind turbines, including blades.
By 2025 we estimate that 25,000 tonnes of blades will reach the end of their operational life every year. We cannot risk the bulk of these blades ending up in landfills. The public would question whether wind is sustainable. And politicians would be much less inclined to support our growth.
We also want to avoid National Governments regulating blade disposal in a rush and without coordination. By engaging policymakers on this now we position ourselves as partners to help define the rules.
Of course this means we need to get ready to recycle, reuse or recover 100% of our blades. We are taking this head on with our sustainability experts across the membership and our partners in the chemicals and composites industries. Read our press release here for more info on our proposal. And don't hesitate to get in touch to contribute to this work – we will only meet this challenge by working together.
Looking ahead – July promises to be a busy month for EU policymaking. 14 July sees the launch of the European Commission's long-awaited "Fit-for-55" Package. We're working closely with the Commission to make sure the new measures on renewables, carbon pricing and energy taxation actually help the EU deliver on its new 55% climate target for 2030. We'll be keeping you up to date on this and sharing our responses to it.
In the meantime, keep your eyes out for Windflix, our brand-new streaming service which we'll be launching on 9 July. At our WindEnergy Hamburg Conference last December, we moved from the physical to the digital space with WindTV. And we provided a fully interactive experience with debates, interviews, field reports and entertainment. Windflix builds on this – it's a video streaming platform, and a place to share video content covering a whole array of wind energy topics. Its search function and intuitive design will help you get up to speed at any time or place. We all have trouble keeping up with long reports or finding the time to attend every webinar. With Windflix, you'll be able to watch what you want, whenever or wherever. And it's completely free, available 24/7, all year round. More info on the way about this very shortly.
Now onto events – we're heading back to Copenhagen for Electric City 2021 on 23-25 November, and we're very much hoping to meet you all in person once again. We'll confirm at the end of August whether the public health situation allows for an in-person event. Top of the agenda – how wind can deliver the electrification of the energy system that the EU wants. This builds on our recent joint report with ETIPWind, tackling the electrification question head on – check it out here.
Our programme overview for the event is now live. We'll have Government Ministers driving Europe's Climate and Energy Policy, wind industry CEOs and top energy consumers, financiers and scientists driving the transition to a wind-based energy system. We'll be covering onshore and offshore wind, sustainability, end-of-life, community engagement,
igitalisation, and of course electrification – among others. And we'll have dedicated feature areas for innovators, start-ups, EU Projects and health and safety experts, as well as the main exhibitor space. More than 85% of the exhibition is booked but you're not too late if you'd also like a spot – get in touch with our Sales team if you are interested.
I'd like to take this opportunity to wish you all a relaxing and enjoyable summer break! We look forward to hopefully seeing you again in person this autumn – we have a lot of content on the way in the second half of 2021 to discuss and work on together.
Kind regards,

Malgosia Bartosik
Want to read more and receive our regular newsletters?