28 March 2017
WindEurope CEO Giles Dickson gives speech at 3rd EU Energy Summit in Brussels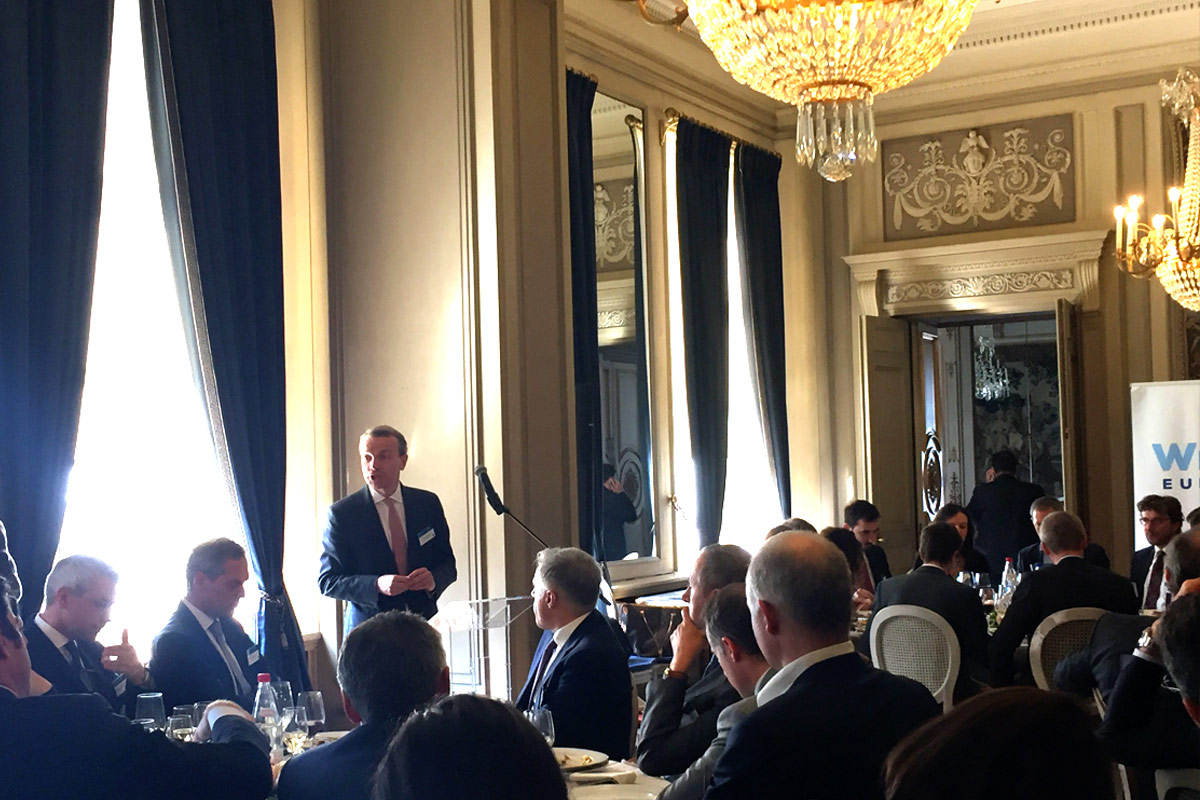 Today, WindEurope CEO Giles Dickson gave a speech at the 3rd EU Energy Summit on the manifold benefits of renewable energy.
He addressed 90 VIPs from the European Commission (Including DG Energy Director General Dominique Ristori), the European Parliament (including José Blanco Lopez, the Renewable Energy Directive rapporteur) and Belgian Energy Minister Marie-Christine Marghem.

Beyond climate change
Speaking after Nikolai Lyngo, Statoil Senior VP and Head of Corporate Strategy, Dickson began his speech by describing 5 reasons beyond climate change for policymakers and investors to take an interest in the renewable sector. Dickson stressed that home-grown renewables provide energy security, employment and exports on a massive scale. Emphasising the increasing competitiveness of wind energy, Dickson explained that costs have come down by 60% over the last ten years. He stated: "With smarter markets and technology driving down integration costs, and cooperation with system operators improving daily thanks to developments like digitization, wind energy is a force to be reckoned with in today's energy mix.'

The importance of policy
Dickson noted that forward-thinking policy initiatives remain necessary if countries are to take advantage of the enormous potential of renewable energy. He pointed to the positive examples of the Netherlands, where successful auctions are driving down the cost of offshore wind, and Germany, where there is clear policy on volumes to be deployed in Germany between now and 2030.
The Clean Energy Package
Dickson affirmed that the multiple aspects of the Clean Energy Package can help to accelerate the energy transition: the Clean Energy Package will help bring down deployment costs as they increase investor certainty, facilitating cost-effective renewables integration, and ensuring that polluting and inflexible plants do not get capacity payments.

"The energy transition benefits everyone"
However, Dickson added, "More work is necessary if we are serious about decarbonisation." Dickson stressed that the energy transition brings the benefits associated with sector-coupling, allowing for such advantages as the storage for excess wind power production. Here, Dickson pointed to the many industrial consumers on board with such a move, with oil and gas operators and large energy consumers procuring wind energy through corporate Power Purchase Agreements.
This, he concluded, is a communication challenge which must be addressed industry-wide if we are all to reap the benefits of the energy transition.
---
Download the 5 reasons poster
Download speech transcript