7 June 2021
WindEurope CEO Bulletin Foreword on unveiling our Annual Event 2022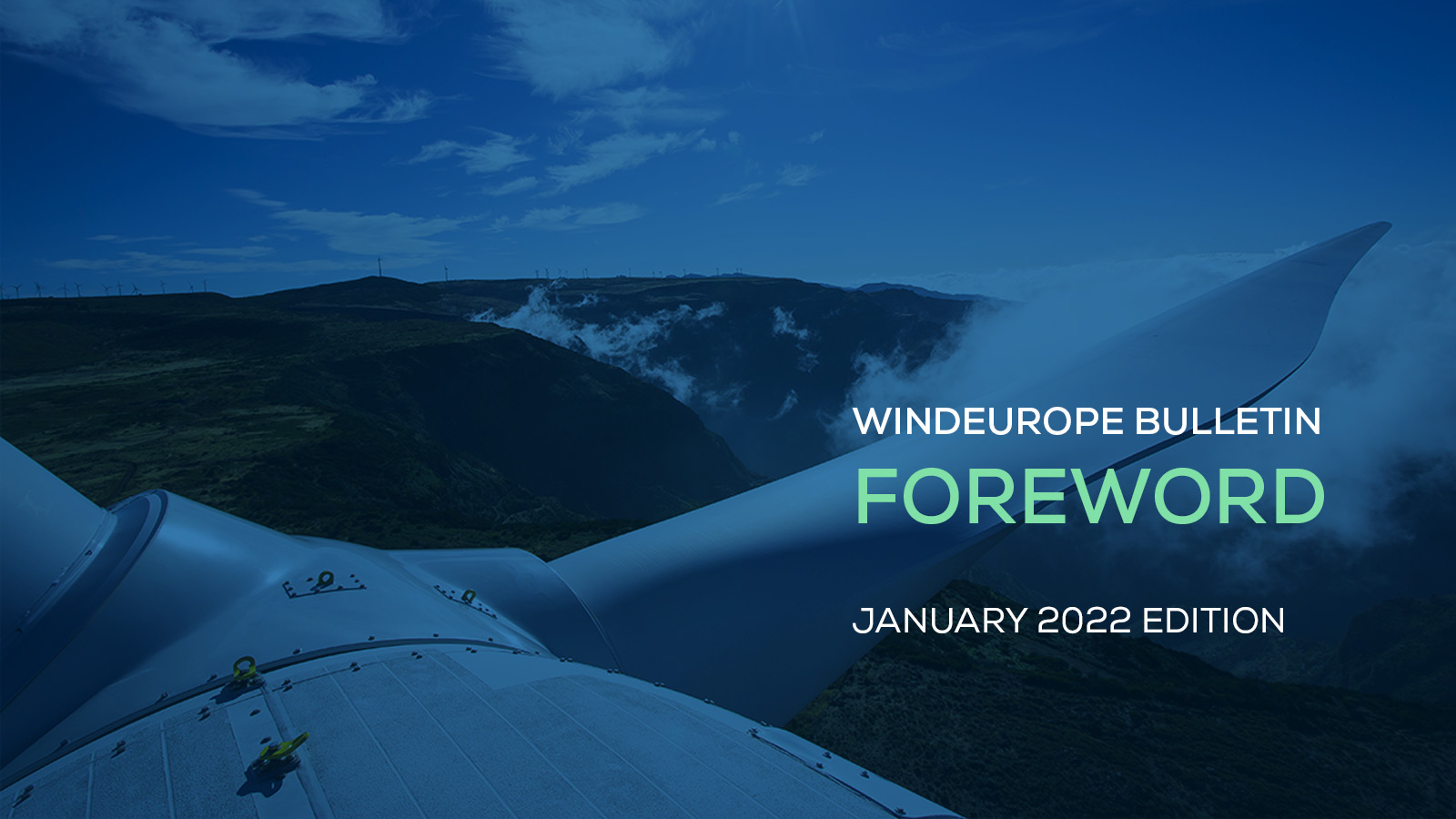 CEO Foreword
Dear WindEurope Member,
You may have seen we announced last week that our 2022 Annual Event will take place in Bilbao on 5-7 April.
That gives us two full physical events to look forward to over the next year, with our 2021 event, Electric City, taking place in Copenhagen on 23-25 November. After more than a year of virtual meetings, webinars and get-togethers, we're hugely looking forward to being able to meet together in person.
Both the Copenhagen and Bilbao events will comprise an exhibition and conference. The exhibition in Copenhagen is pretty much full, though there's still some space available – and you can book but cancel for free until 23 August. The floorplan is available here. We're now opening the bookings for Bilbao – let us know if you want to reserve your space. For enquiries on both events contact the Sales team.
On the conference side, the call for abstracts for the technical programme for "Electric City" is complete. We'll be finalising the full programme over the summer. For Bilbao we will open a call for abstracts after the summer.
Both the Copenhagen and Bilbao events are designed and delivered by the industry for the industry with the proceeds going back into WindEurope to support the work we do on your behalf.
A big focus of both events will be the demand side – who is going to be buying the huge amounts of wind energy that the EU want us to produce. Electric City will focus on how wind can help electrify industry, transport and buildings. Industrial and corporate consumers of energy will have a major presence at both events.
How wind can help electrify the energy system will also be the focus of our annual flagship report which we will publish tomorrow. We're launching it at a webinar with the EU Commission and the Portuguese and Greek Governments on 8 June at 15:00-17:30 CEST. You can still register here.
Permitting remains our number one priority. All the nice talk about electrifying industry is for the birds if we can't build the new wind farms in the first place. The EU law requiring permit decisions to be taken within two years (and one year for repowering) comes into force on 1 July. We are working closely with the EU Commission to make sure they enforce it rigorously. Please let us know where these deadlines continue not to be met.
At a national level Germany committed last week to implement its 18-point plan for the simplification of permitting and (finally) to have a proper repowering strategy. They also increased their onshore wind target for 2030 from 71 GW to 95 GW. Poland meanwhile announced that they hope to legislate in their Parliament in the autumn to soften their 10h distance law.
We've recently made an important step forward on the dismantling and decommissioning of wind turbines. The IEC (International Electrotechnical Commission) have endorsed our proposal for a technical specification for a global standard on dismantling and decommissioning. They'll now start defining the standard. It's a 2-year process, and we'll be working closely with the IEC to get the detail right.
Finally, the WindEurope Ports Platform published a new report last week on the essential role of port infrastructure in offshore wind: 2030 Vision for European Offshore Wind Ports: Trends and Opportunities. It sets out the €6.5bn of investments needed in Europe's ports to support the expansion of offshore wind. And it explains the role ports will play as hubs for renewable hydrogen development and green energy – helping to electrify hard-to-abate sectors. More on the report here.
I wish you an enjoyable read.
Kind regards,
Giles Dickson
Want to read more and receive our regular newsletters?