1 April 2021
WindEurope CEO Bulletin Foreword on the new WindEurope Narrative and the Fit for 55 Package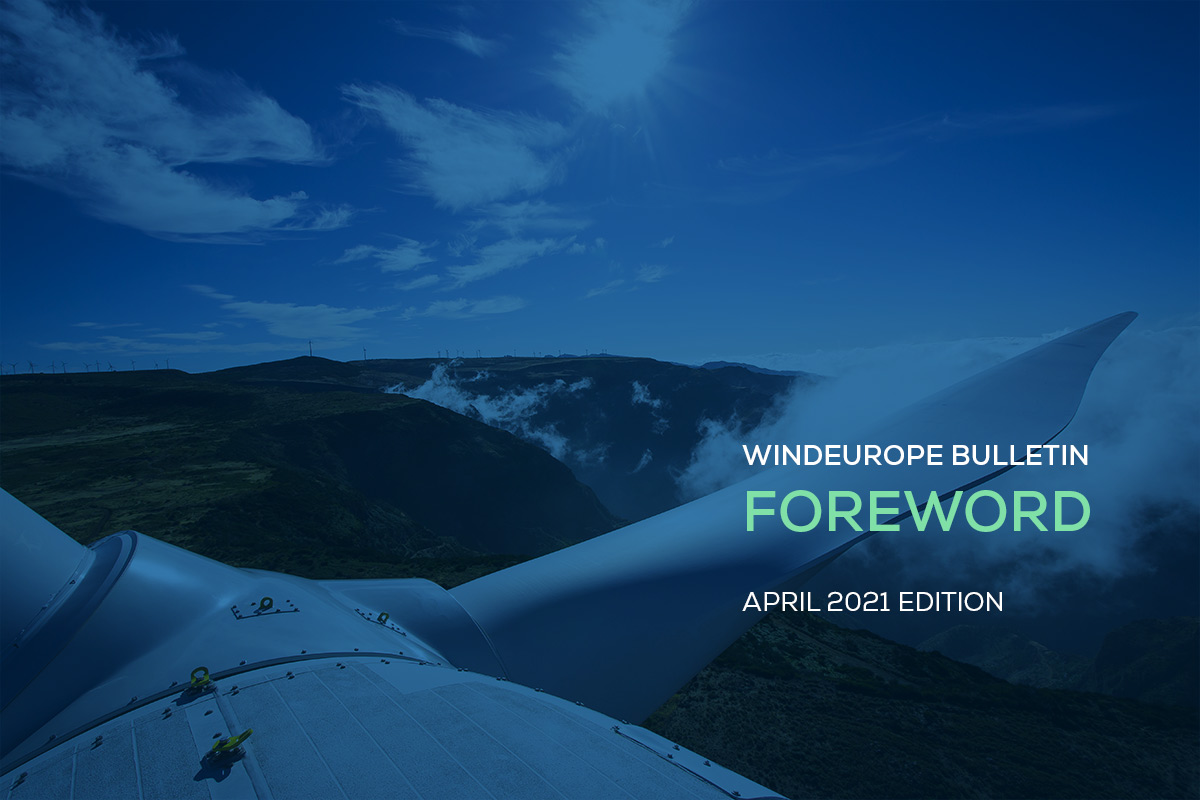 CEO Foreword
Our newly approved WindEurope narrative is now online – see it here. This is the script we use to outline wind's contribution to society, and the policies Europe needs for wind to become the backbone of a climate neutral energy system. I encourage you to use this common hymn sheet when you engage policymakers and stakeholders.
We updated the narrative to reflect key developments: the new 55% climate target for 2030, the need to work closely with industrial and other energy consumers, and the big role wind can play in EU recovery. 30 April marks the deadline for EU Member States to submit their National Recovery & Resilience Plans to the European Commission. 37% of the €673bn Recovery and Resilience Facility must go to climate-related spending, but we need to make sure that specific instruments in these plans will go to the right infrastructure including electricity grids and ports, to wind R&D, and to staff permitting authorities to help accelerate wind deployment.
We'll release our annual Finance trends report on 13 April, with a webinar to follow on 14 April examining it further. A quick round up of the figures – Europe invested €42.8bn in new wind farms in 2020, the second highest figure on record and 70% up on 2019. €26.3bn went on offshore wind – a new record – but only €16.5bn to onshore, the lowest since 2017. The investments cover 19.6 GW of new capacity – 7.1 GW for offshore and 12.5 GW for onshore. It's clear that finance isn't our biggest concern. We need to see more projects, and for that we need to accelerate permitting, ease corporate PPAs, and boost the uptake of renewable hydrogen.
The European Commission's "Fit for 55" package must help facilitate these policy improvements. The Renewable Energy Directive (RED) is up for revision and we expect the European Commission to table a renewable energy target of 38-40%. But raising the target is useless unless the we have the measures to deliver this goal. See our position on the package here. Along with our proposals for the Renewable Energy Directive, it sets out our position on the reform of the Emissions Trading System and on the new Carbon Border Adjustment Mechanism.
We'll be hosting two Sofa Talks to shed further light on the "Fit for 55" package – the first looking at reshaping the ETS (22 April), and the second on the RED revision (12 May). Further details and registration links below – be sure to join if you can!
At the national level we were disappointed with the latest amendment of Germany's Renewable Energy Law (EEG2021). And we've published a letter addressed to the German Government on behalf of WindEurope and the German National Associations and companies, laying out six key steps to correct the existing framework and eliminate bottlenecks to onshore wind development. Our immediate concern is that the legislation still needs a green light from the European Commission Competition authorities. This holds up auction results which disrupts the full supply chain. We've alerted the Commission and are working closely with German industry to clarify this.
Finally, the end of March also saw Member States finalise their National Maritime Spatial Plans. As offshore wind continues to grow, these plans will facilitate vital cooperation with fishing, shipping, defence, and other parties affected by maritime planning. WindEurope has been working with National Associations, National Governments and the European Commission, to stress the importance of these plans reflecting the EU's ambition to have 300 GW of offshore wind by 2050. We'll keep you updated on how this progresses.
I wish you an enjoyable read,
Kind regards,
Giles Dickson
Want to read more and receive our regular newsletters?