4 July 2018
WindEurope Bulletin July 2018 Foreword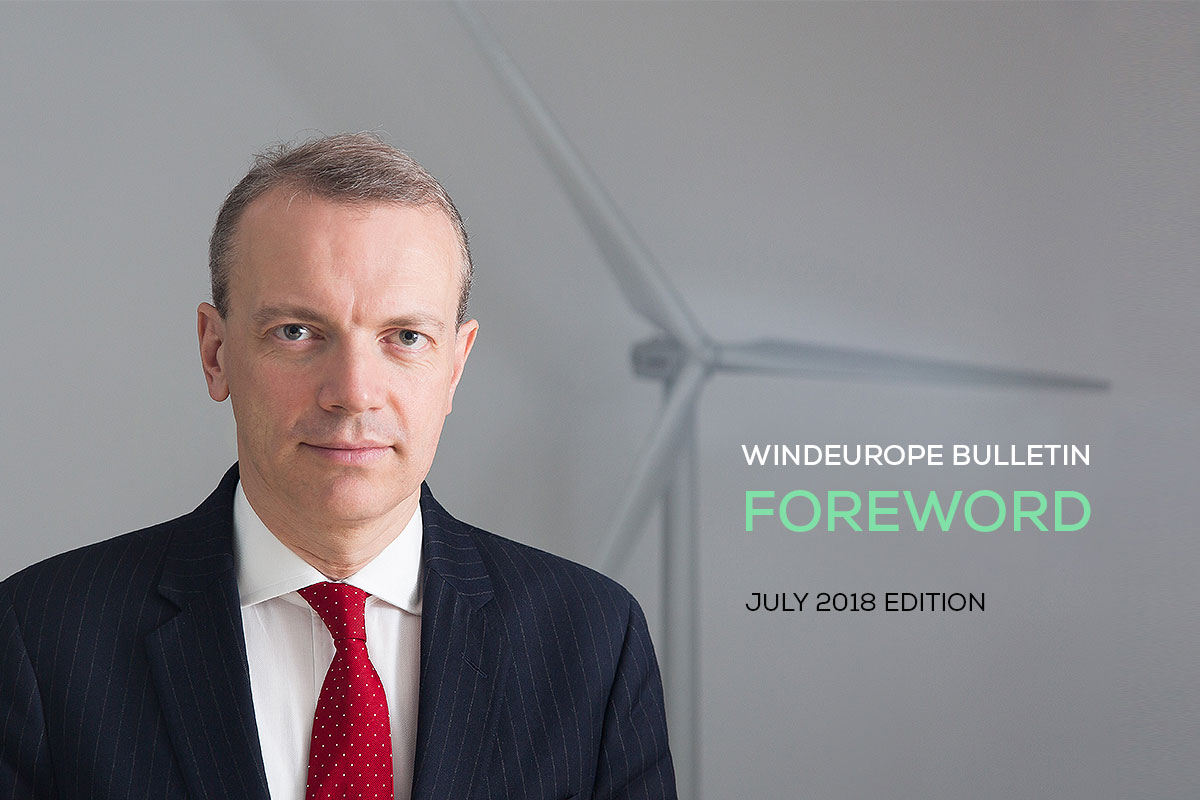 CEO Foreword
Dear WindEurope Member,
If there was just one thing that I would have to call an achievement this year, it would be the two significant breakthroughs on the Clean Energy Package in recent weeks. Firstly, after months of intense political debate, negotiators struck a deal on Europe's 2030 renewable energy target. By 2030, 32% of Europe's final energy will need to come from renewables. This is a significant improvement over the target of at least 27% that the European Commission tabled back in November 2016. It means that wind will play an increasing role in Europe's energy mix. It means that we will stay in the race for global competitiveness. And it means that there will be more jobs and investment in wind.
Secondly, we'll have the right rules in place to meet this target. Countries will need to submit detailed plans by the end of 2019 on the renewables they're going to deploy to help meet the EU-wide target. This will give us much-needed long-term visibility and certainty help further bring down costs. You can find out more in our video explainer below.
Apart from working hard on Clean Energy Package, the team has been busy on many new topics that are crucial to our industry. One I would like to highlight to you today is the work we've been doing on digitalisation. Over the past decade mature industries have experienced a digital revolution. Digital platforms can harness the power of fast, cheap data processing to cut costs, create value and launch new business models.
This process of digitalisation is set to transform how the wind industry works. The IEA estimates that the energy sector could save USD 80bn per year by fully embracing digital solutions. Harnessing digitalisation is crucial for the system integration of wind power. Digitalisation is also smoothing out power demand through storage and demand side management. And digitalisation is helping to optimise assets and is becoming a cost reduction enabler. As part of the European Technology & Innovation Platform, WindEurope members developed this infographic that gives a detailed overview of digitalisation's potential for wind.
To work more on the opportunities that digitalisation offers (system integration, cost reduction and revenue enabler, asset optimisation) as well as the challenges (data exchange and ownership, cyber security) we are setting up a new Digitalisation Task Force. The first meeting will take place at beginning of September. Please do let us know if you would like to receive more information about it.
We'll also be delving deeper into digitalisation at the Global Wind Summit this September. Attendees will learn about the latest ground-breaking developments in digital wind and new technologies, attend product launches on the expo floor, and join the conversation on the imminent changes coming from these technological breakthroughs. You can find out more about digitalisation below in a dedicated article and in a video interview with Sentient Science's Alfonso Faubel.
Finally, I'd like to give a warm welcome to all of our new Board members who were elected at our recent Annual General Assembly in Brussels. Joining us as C-category Board members are: ABB, Technical University of Denmark (DTU), Innogy and InnoEnergy. In the A1-category for National Associations: AEE (Spain), DWIA (Denmark) and VDMA (Germany). Congratulations to all of them.
Enjoy the summer,
– Giles Dickson
CEO, WindEurope
Want to read more and receive our regular newsletters?