15 April 2019
WindEurope Bulletin April 2019 Foreword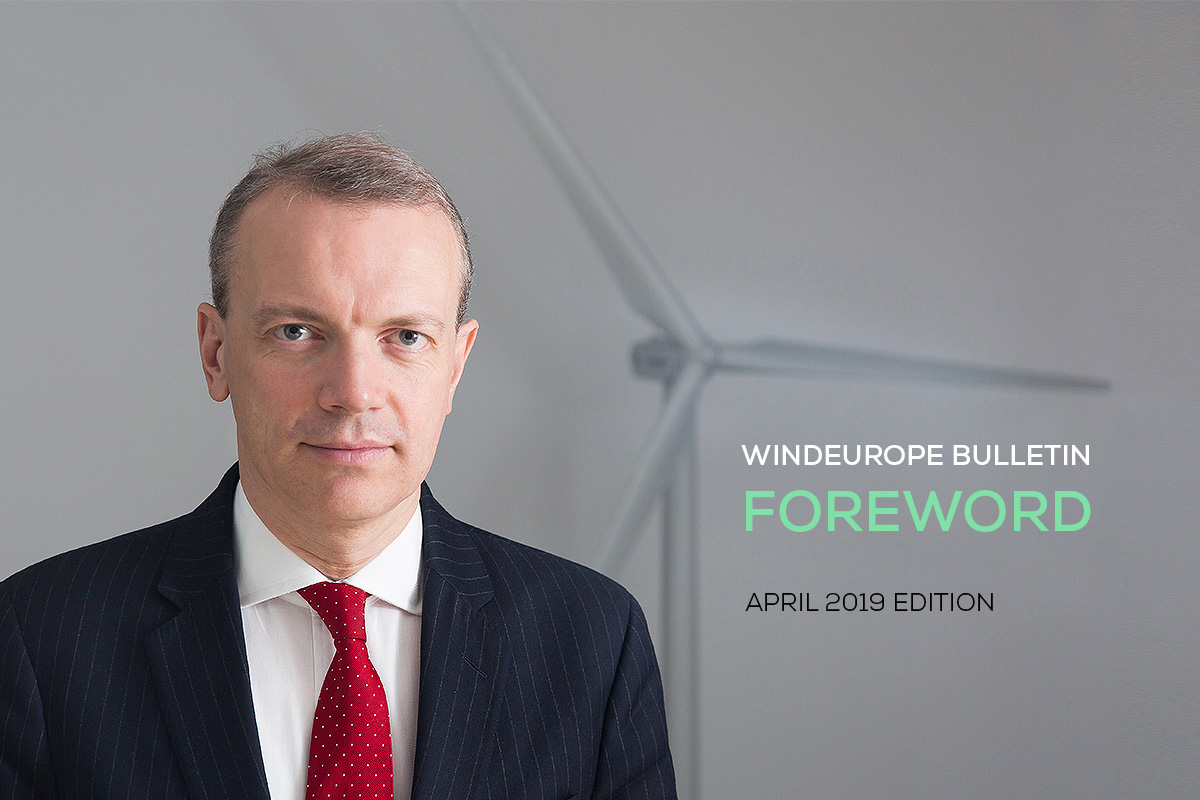 CEO Foreword
Dear WindEurope Member,
First, a big 'thank you' to all of you who joined us in Bilbao at the start of the month for our annual conference and exhibition. I hope you enjoyed it and it was a useful event for you.
We were very pleased with how it went. The location and venue was great, and we had excellent support from the host authorities. Over 8,500 people took part in the end, and there were more than 300 exhibitors. The conference had 155 speakers across 30 different sessions, and then there was a host of good side-events including workshops on skills and on regional economic transition. It was good to have the health and safety and thought leadership sessions inside the exhibition too.
There were 6 Government Ministers there including Teresa Ribera (Spanish Minister for Ecological Transition) and Michal Kurtyka of Poland who is also the current President of the UN climate change negotiations. And to top it all King Felipe of Spain spent 3 hours at the event on the first day.
The King gave a great speech. Climate change is "very alarming," he said. But "all of you here today represent part of the best response we can offer in the face of these existential challenges." He spoke of the economic benefits of wind energy. And he told the industry to "feel proud" of its achievements so far but "not content. It may be so that many countries the world look over to Spain as a standard-setter of how to integrate renewable energy into the electricity network, but we should not stop pushing even further in this and other areas, and stay at the forefront of this global transformation." These words set the tone for three days of fruitful debates and discussions.
You can re-live some of the highlights from Bilbao in our post-event report, the photos or the recap video.
You may have seen we issued new analysis during the Bilbao event of European countries' draft National Energy & Climate Plans. The headline pledges on renewables in the draft Plans are not too bad. But the Plans are lacking badly in detail on the policy measures and instruments that will enable countries to deliver on those pledges, such as when wind auctions will happen and what countries will do to electrify heating and transport. Countries have until the end of 2019 to finalise the Plans, and the European Commission are leaning hard on them to make improvements. We are working with the Commission and with national governments to make sure this happens. We count on your support for this.
Looking ahead, do save the dates for other events we're organising. On 26-28 November we have our big offshore wind event in Copenhagen. Exhibition space is fast running out – so book your stand soon. We'll also be opening the conference programme 'call for solutions' soon.
On 25 June our annual summer reception will take place in our new "back yard" (we move into our new office in Brussels on 23 April). On 26 June we will have our biennial Open Day for members. And on 27-28 June we're doing a Technology Workshop on resource assessment: how to reduce uncertainty about wind volumes with better models and validation tools – registration for that is now open.

– Giles Dickson
CEO, WindEurope
Want to read more and receive our regular newsletters?