21 March 2017
Giles Dickson speaks at the European Parliament about the revised Renewable Energy Directive
Today Giles Dickson, CEO of WindEurope, took part in a hearing at the European Parliament on the proposed Renewable Energy Directive (RED).
The event, which gathered other industry, investors and NGO representatives, was chaired by Fredrick Federley, member of the Alliance of Liberals and Democrats in Europe (ALDE) and shadow rapporteur for the Industry and Energy Committee on the RED. Other Members of the European Parliament with a drafting role on the Clean Energy Package attended, including Carolina Punset, Morten Helveg Petersen and Kaja Kallas.
Highlighting the fact that wind energy is a mainstream force to be reckoned with, Giles emphasised that wind power alone covered 19.6% of the EU's energy demand last Saturday. He then made the case for an improved policy framework for renewable energy leading to 2030 to ensure that wind energy continues to play a greater role in Europe's energy mix. He stated that the current proposal fails to provide investors with certainty on the volumes which will be deployed: as it stands, only 7 countries in Europe have a post-2020 strategy for wind energy.
Giles asserted that the new RED should build the ground for a cost-effective transition by clarifying what Member States can and can't do regarding support schemes. "Feed-in Tariffs are history. We're now moving to auctions. It's the role of the European Parliament to tell national regulators how to design them properly" Giles said. "And these should be technology-specific" he added.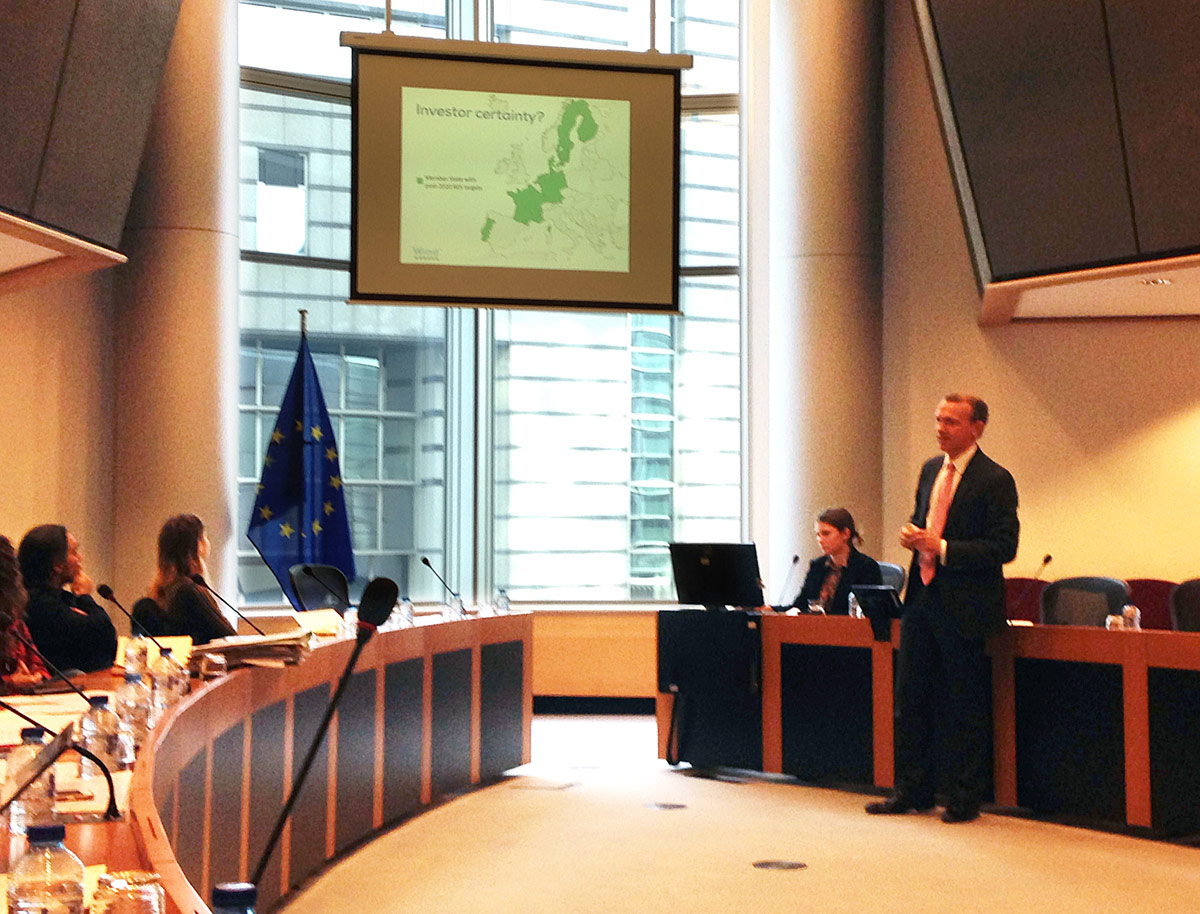 Giles also pointed out the potential in the Package to push for more electrification of transport and heating sectors. Accelerating the development of e-mobility, notably the roll-out of charging infrastructures, should be a priority in this regard. He added that "the 6.8% obligation on fuels suppliers should allow for renewable electricity to be accounted for."
In response to a question from the MEPs on how they should persuade sceptical MEPs about the merits of renewables, Giles outlined three key facts: Renewables are the cheapest form of new power; renewables bring jobs and growth; renewables benefit local communities. The wind sector, he explained, already provides 330,000 jobs in Europe, and the wind industry has a proven track record of breathing new life into previously depressed regions such as Hull in the UK and shipyards in Poland. Giles also emphasised that renewables bring direct economic benefits to local communities: the many towns and villages that own wind farms across Europe enjoy greater energy security, improved air quality, and a clean and flourishing working environment for young people.
He concluded by reaffirming that MEPs should express their support for a higher renewable target by 2030 and thus guarantee that Europe achieves its aim of being the world leader in renewables.