16 November 2018
COBRAcable for sustainable electricity lands in Eemshaven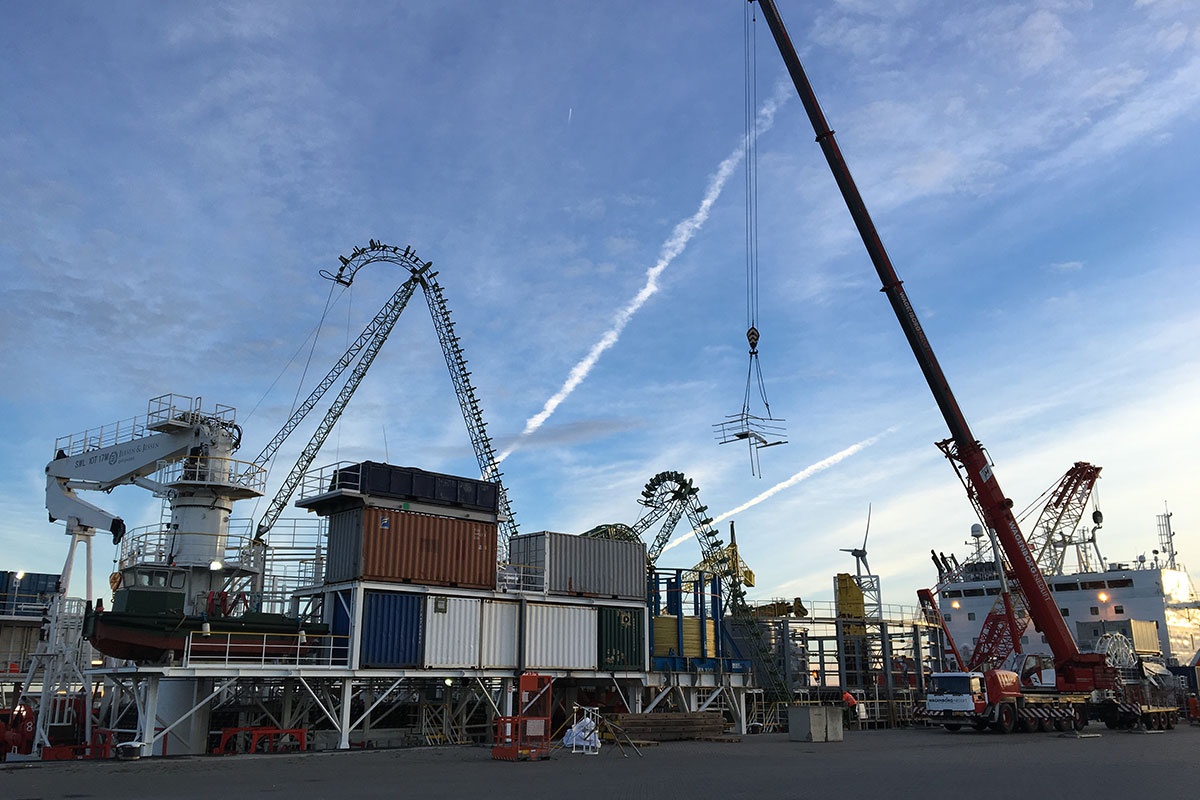 Data cable suitable for possible linking up offshore wind farms in future
Eemshaven is not only base port or service port for the offshore wind industry, but it is also the landing port for international connections, especially for wind energy. Several converter stations are operational in Eemshaven and there are connections with Norway, UK, and Germany. In the near future, when the COBRAcable is finished, Eemshaven is also connected with Denmark (2019). Add the energy producing companies and it is obvious that with a capacity of 8,000 MW Eemshaven is the power point of and balancing hub for Northwest Europe.
Friday 9th November this COBRAcable was brought ashore in Eemshaven in the Netherlands. From the ship Ulisse on the Wadden Sea, the cable was pulled ashore via a duct installed in the sea wall for that purpose. The cable will then be connected to the converter station that was built 1 kilometre away in Eemshaven. This so-called COBRAcable is a joint project implemented by Dutch TSO TenneT and its Danish counterpart Energinet. It is a subsea electricity connection between the Netherlands and Denmark. 
'Green' cable
The COBRAcable will play a key role in the implementation of the Dutch and European sustainability objectives. The COBRAcable will ensure a better exchange of sustainably generated energy and a reduction of CO2 emissions, and will promote the further integration of the European energy market and therefore have a dampening effect on electricity prices in the Netherlands and Europe. In addition, the COBRAcable will contribute to network stability in the Netherlands and Denmark, and the cable will more than pay for itself through the auctioning of transport capacity. The COBRAcable will make Dutch capacity structurally available to the Danish electricity grid, and vice versa. The interconnector will also be designed in such a way as to enable the connection of an offshore wind farm at a later stage. This will contribute to the realization of a sustainable international energy landscape.
Fiber
The cable not only makes a significant contribution to CO2 savings, it also improves the establishment climate for data centres, which are becoming increasingly likely to use green energy. Another aspect is that a fiber optic cable is being laid to Esbjerg with the COBRA cable. That strengthens Eemshaven as a data centre hub because it thus becomes part of the pivoting point of international connections that Esbjerg already forms. For this part of Europe, the fibre optic connection via Eemshaven is the fastest route to Scandinavia.