6 February 2020
WindEurope Bulletin February 2020 CEO Foreword on Green Deal funding opportunities for wind energy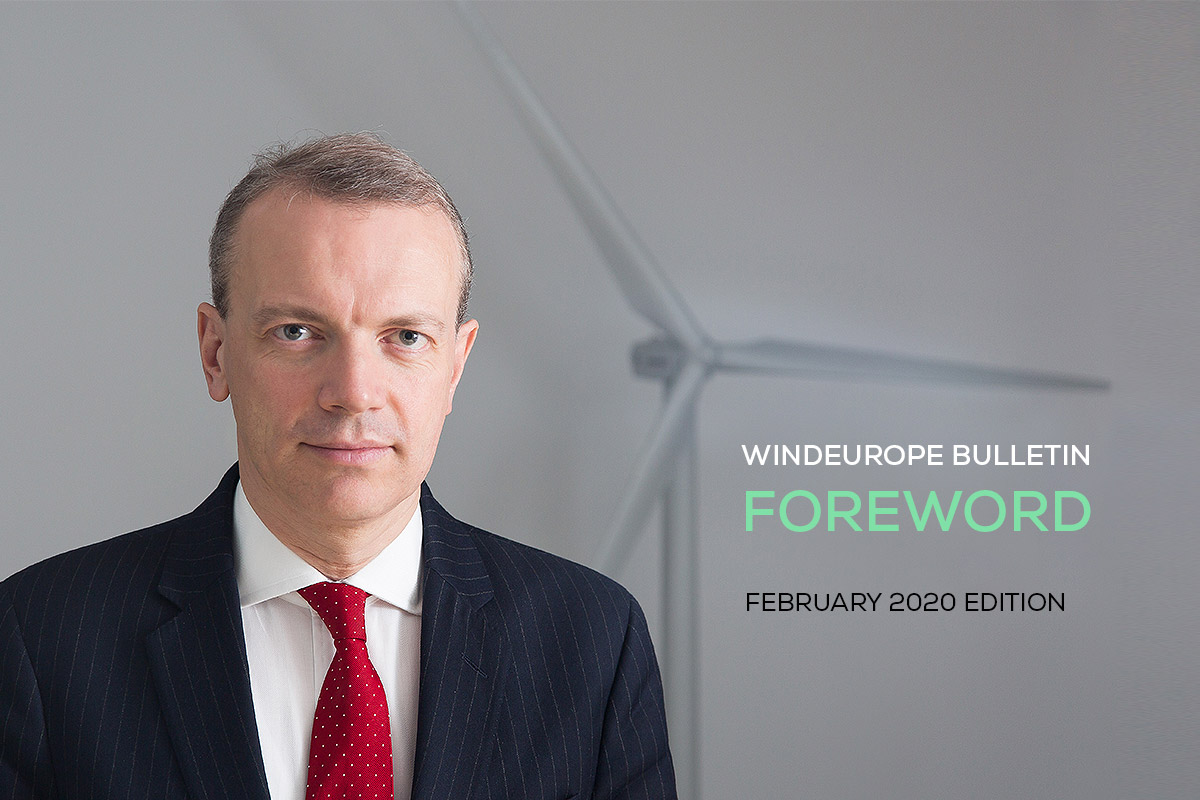 CEO Foreword
Dear WindEurope Member,
Last month brought good news for Europe, the climate and for wind energy. The EU Commission unveiled its Sustainable Europe Investment Plan, the financial pillar of the European Green Deal. It is bigger and better than any previous European investment initiative. The political focus is now firmly on climate-neutrality, and the EU aims to mobilise €1 trillion in investments over the next 10 years to support the energy transition towards 2050. (We analyse and outline our positions on the Green Deal here.)
So how does the €1 trillion break down – and what does it mean for wind? Half of the trillion will come from the EU budget. Member States are expected to co-finance another €100 billion. And the rest will come from private and public investments through a new programme called "InvestEU" that'll be run primarily through the European Investment Bank (EIB).
The EIB has already committed to increase its climate finance to 50% of all its lending. It's also laid out a new energy-lending policy to stop financing traditional fossil fuels and focus fully on energy efficiency, renewable energy and climate-friendly projects.
So the money is there. But we need to stake our claim to it and make sure we use it. The EU Commission see wind being half of Europe's electricity by 2050. That requires a huge volume of investments. And we need to be proactive to make the most of the different funding and financing the EU is making available to support those investments. Let us know if you want to try to access EIB support.
Next month I will tell you more about what we can expect from the European Green Deal.
We've just published the data on new offshore wind installations and investments in 2019 and will do the same for onshore wind on 17 February. Neither the onshore nor offshore installations are running at the rate required to deliver the Green Deal, even though we installed a record amount of offshore wind last year.
We're doing a webinar on the offshore statistics on 11 February. And one covering the onshore and offshore data on 25 February. You can register for both here.
Finally, on 18 February we're co-organising "emPOWER", a half day Summit in Brussels on the energy transition. We've got a good line up of speakers: the new EU Energy Commissiomer, Kadri Simson; the Chairman of the European Parliament Committee for Industry and Energy, Cristian Busoi; the Energy VP in the EIB, Andrew McDowell; and the CEO of TenneT, Manon van Beek. Tickets are selling fast, so register soon if you're able to come.

Giles Dickson
CEO, WindEurope
Want to read more and receive our regular newsletters?