27 November 2020
WindEurope Bulletin CEO Foreword on WindTV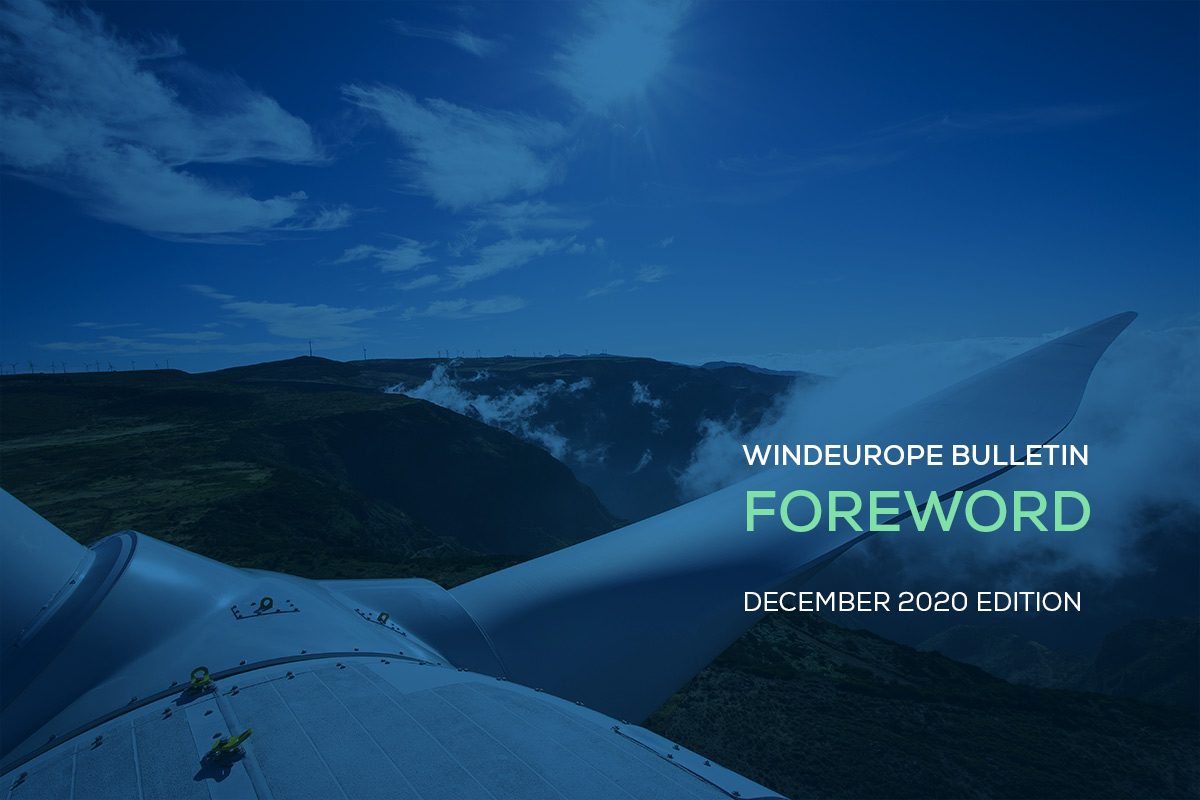 CEO Foreword
Next week is our annual conference 'WindTV', running from 1-4 December as part of the WindEnergy Hamburg event. It was going to be in Hamburg. It's now online. It'll have all the features of a typical WindEurope conference, with panel discussions, technical sessions, and presentations. But with the TV format it'll go much further – with interviews, videos, "power talks" and other features. We'll be broadcasting it live from studios in Brussels, Hamburg, Essen and the UK.
We have a top line-up of speakers. IEA Executive Director Fatih Birol. EU Energy Commissioner Kadri Simson. Energy Ministers from Germany, Poland, the UK, Belgium, Denmark, Ireland and elsewhere. Top players from finance including the new head of energy at the European Investment Bank. Wind industry CEOs and the CEOs of BASF and TenneT. Key players from technology. Start-ups. And to show the energy transition is now touching all of society, we'll have a former Eurovision winner and a legendary goalkeeper!
Our Event Ambassadors will be prominent throughout the event: Anja-Isabel Dotzenrath of RWE Renewables, Gunnar Groebler of Vattenfall and Johnny Thomsen of MHI Vestas. And there'll be plenty of fun features with pub quizzes, virtual drinks, and interviews between kids and wind industry CEOs.
Also, you don't actually have to tune in on the day. Once you have registered, you can watch the content right up to the end of December.
Registration is now open here.
Some of you have asked about group bookings for your teams. Some have asked if we can offer "staff training" discounts or even help you offer it to staff as an end of year gift. Sure, we've created special packages for this and there is still time to book it – Mia can tell you more ([email protected]).
I really hope you and your colleagues will be able to join us on "WindTV". It'll be a unique opportunity to learn, exchange ideas, hear the top minds and have some "laptop" fun with your peers – all in a creative, interactive setting we've prepared for you.
The week after "WindTV" is our annual RE-Source event on PPAs and corporate sourcing of renewables. It's online from 7-11 December and will bring together renewables producers with corporate energy buyers / offtakers. It'll be a mix of discussion and B2B networking. It'll cover all the latest trends in PPAs, GOs, risk mitigation, aggregation and so on. You can register here.
Finally, can I thank you for the support and engagement you have given to WindEurope throughout the year, especially given the challenging circumstances.
I wish you an enjoyable read.

Giles Dickson
Want to read more and receive our regular newsletters?