8 February 2021
WindEurope Bulletin CEO Foreword on encouraging new statistics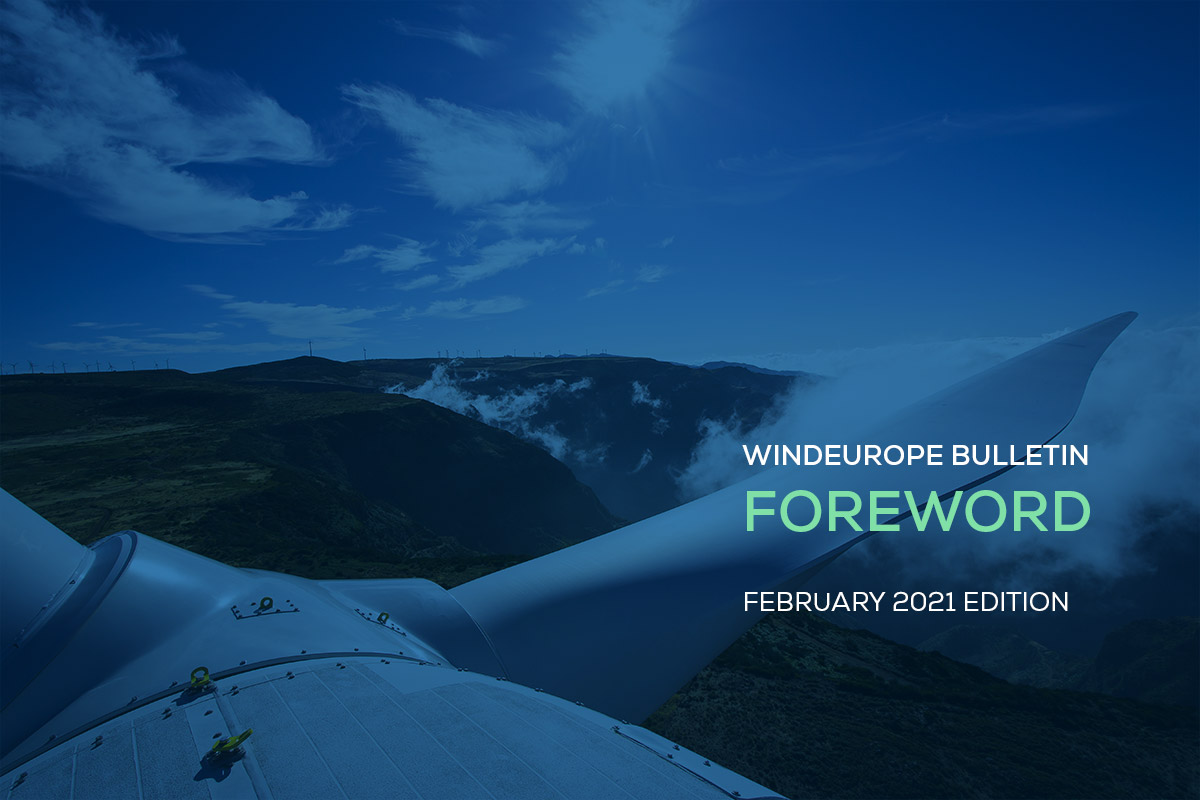 Dear WindEurope Member,
This month sees a continued expansion in WindEurope's outreach and advocacy, as we gear up for major legislative changes over the course of 2021. As you know, in December the EU agreed to increase its 2030 climate change target from a 40% emissions reduction (from 1990 figures) to 55%.
On the back of that, the EU Commission will now propose raising the EU's 2030 renewables target from 32% of energy to 38-40%. This gives us the chance to try to amend the rules in the EU Renewables Directive on permitting or GOs to support the expansion of wind. The EU wants wind to be 50% of Europe's electricity by 2050, and the higher 2030 renewables target is meant to help get us there. But national permitting rules and procedures as they stand will undermine the expansion of wind, so it's essential we simplify them.
We're making some important progress on EU industrial policy. The European Commission has appointed us to their new EU Industrial Forum, its official stakeholder body for advice on skills, trade, innovation, and other aspects of industrial policy – we're one of only 10 sectors involved alongside heavyweights such as automotive, chemicals and aerospace. Separately, the EU launched its new 7-year R&D funding programme last week, "HorizonEurope". It has €1.76bn in total for energy R&D over the next two years, including significant amounts for both onshore and offshore wind. The first call for proposals will be in April.
The last month has seen some significant developments at a national level. Spain ran its first auction under its new CfD scheme and saw the benefits of shifting to CfDs with the lowest ever prices for onshore wind in Europe: €20 to €29/MWh. Poland adopted its new Offshore Law Act paving the way for it to start delivering its goal of 10 GW offshore wind installed by 2040. Germany finally confirmed its annual onshore wind auction volumes to 2030, though the new law also allows the regulator to reduce the volumes if they see a risk of an auction being undersubscribed. And the law did little to simplify permitting, though last year at least saw a doubling of new onshore wind permits on 2019 (to 3 GW). Read our analysis of the new German law here.
More data from last year:
Europe invested a healthy €26bn in new offshore wind, covering 7 GW of new capacity that'll be built in the coming years;
Europe installed 2.9 GW of new offshore wind in 2020, bringing us to 25 GW offshore wind in Europe. The average new turbine was over 8 GW; and
We will publish our full annual statistics on 25 February. Look out also for the webinar on them on 4 March. And a webinar on the offshore wind data on 11 February.
I wish you an enjoyable read.
Giles Dickson
Want to read more and receive our regular newsletters?