6 June 2023
After a decade of stagnation, we sense a wind of change in Central Europe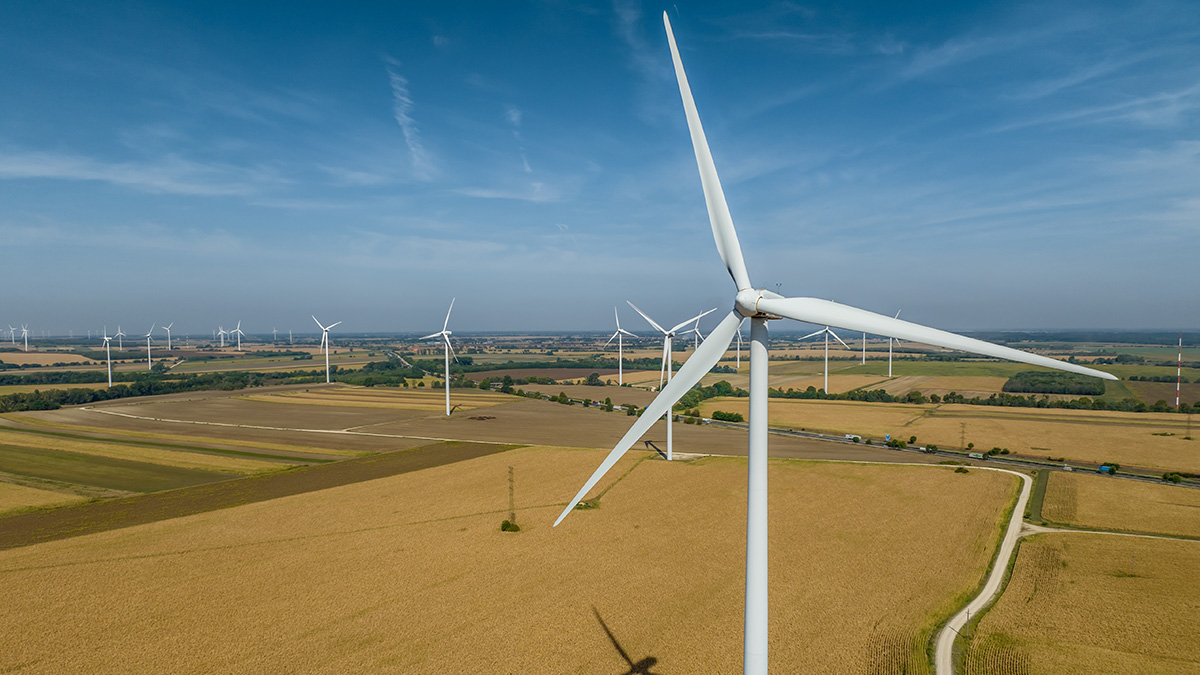 Joint press release by the Czech Renewable Energy Chamber, E3G, Energiaklub Hungary, The Slovak Association of the Photovoltaic Industry and RES (SAPI), Windex Energy and WindEurope.
Recent regulatory changes for wind energy development in Central European countries are promising: Hungary is simplifying repowering conditions. In Slovenia first steps to boost permitting will come into force in July. And recently amended legislation in Czechia aligns the position of wind energy development with other public interests and simplifies permitting processes. Governments in Central Europe must use the National Energy Climate Plans (NECPs) submission to translate these recent improvements into higher targets for wind energy.
Central European countries can only meet their required share of the EU's new renewables target by deploying more wind energy. Landlocked countries like Czechia, Hungary, Slovakia and Slovenia rely on onshore wind. Governments, therefore, need to use the upcoming deadline to submit draft NECPs as an opportunity to increase their wind energy targets. This will allow them to provide clean, secure and cheap energy and ensure their economies stay competitive. For example, consumers can expect electricity prices to be reduced by 29% by 2030 if countries in the region deploy more renewable energy.
Renewable energy associations and climate think tanks have asked governments to use the revision of NECPs to raise their wind energy targets:
Czechia should increase its wind target to between 1,000 MW and 1,600 MW by 2030,
Hungary from 329 MW to 4,000 MW by 2030,
Slovakia from 500 MW to 667 MW by 2030,
Slovenia from 500 MW to between 600 and 700 MW by 2030.
Improved permitting can help wind capacity surge threefold to eightfold by 2030
By December 2022 Czechia, Hungary, Slovakia and Slovenia had 0.675 GW total installed wind energy capacity. They could reach between 2 and 5.4 GW by 2030. To turn this potential into reality, unblocking and speeding up the construction of wind farms is a must.
Missing goals for the development of renewables, state regulation that restricts wind energy development and overly complicated permitting processes have been the main obstacles to wind energy development so far. This has led to a decade of stagnation of the sector in most Central European countries, see table below. Details on key national obstacles can be found in country profiles here.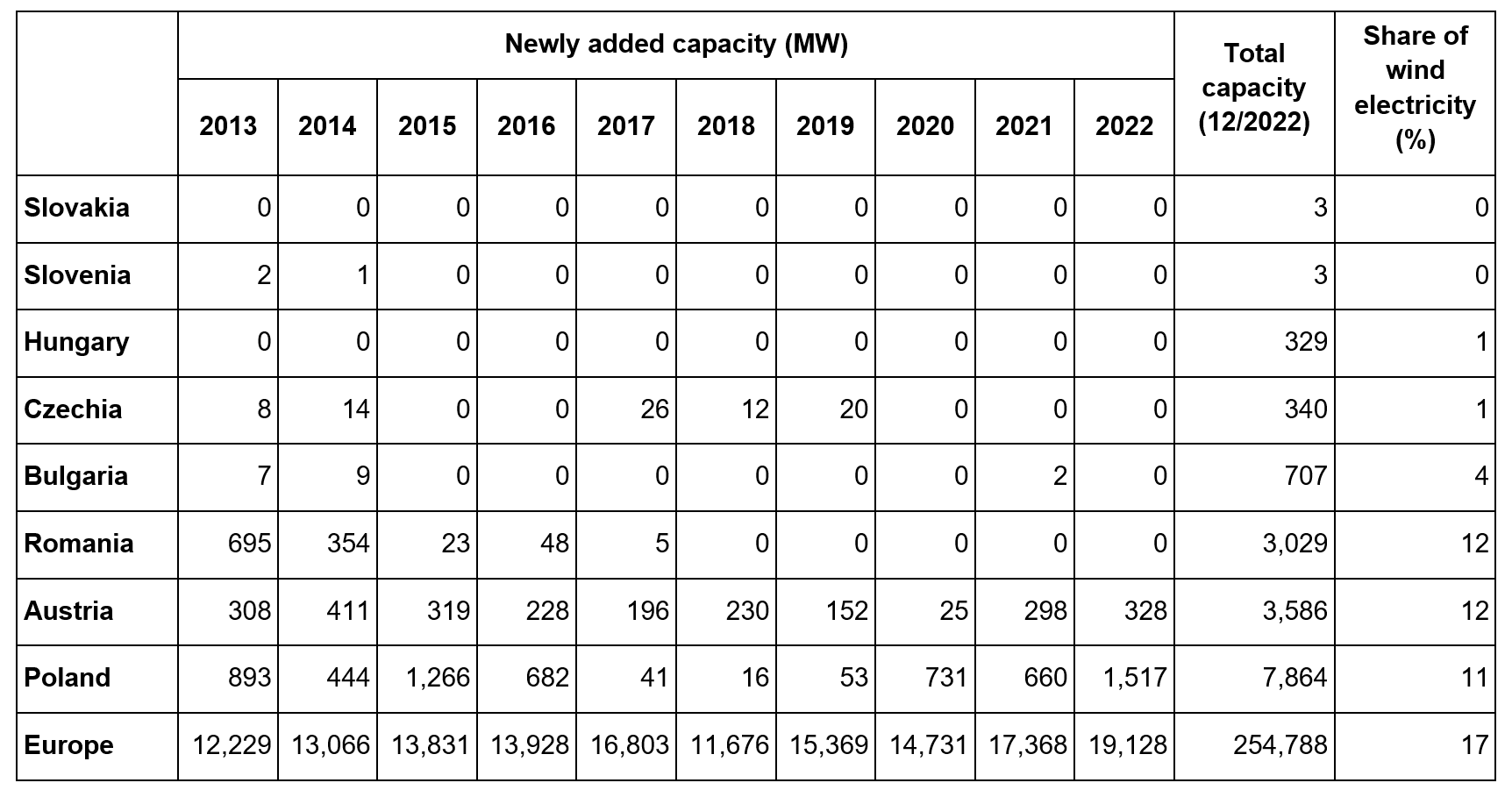 Giles Dickson, CEO WindEurope said:
"Wind is 17% of all the electricity consumed in Europe today. The EU want it to be 43% by 2030. This requires a huge expansion in capacity. The whole of Europe is going to have to contribute. So it is encouraging to see the growing number of new wind farm projects now under development in Central Europe. And the number of Governments in the region that are now planning or legislating for CfD auctions for new wind farms. Every EU Government now has to update its National Energy & Climate Plan (NECP). This is a great opportunity for Governments to nail new targets and spell out the policies e.g. on permitting and grid expansion that will help deliver them. Ambitious NECPs will attract investments."  
Stepan Chalupa, Chair of the Czech Renewable Energy Chamber said:
"Well started removal of barriers must be completed and higher NECP targets agreed upon as soon as possible: to prepare a wind project must not take ten or more years, but a year or two at most. Most Central European countries have fallen asleep in the RES deployment. Czechia, Hungary, Slovakia and Slovenia have installed a total of only 83 megawatts (MW) of wind turbines over the last 10 years. That's how many are installed in the rest of the EU every 2-3 days. But even historically fossil fuel reliant countries now start to notice benefits of the energy transition."
Genady Kondarev, E3G Senior Associate for Central and Eastern Europe said:
"The revision of the NECPs is a crucial opportunity for Central Europe to catch up with the energy transition. The EU is turning the energy crisis into an opportunity to turbocharge its energy transition and made renewables a central part of its energy security. The Central European contribution will be crucial to achieve the EU's new renewables target for 2030 but also to secure the competitiveness and strategic energy autonomy for the region. Onshore wind energy is a central ingredient for a sustainable power mix and a balanced energy system."
László Magyar, renewable energy expert from Energiaklub said:
"The current legislation prohibiting wind energy investments in Hungary will be changed in a few months. Additional obstacles will arise in the licensing and network procedures, and it is likely that the installations will only be permitted in certain parts of the country, so we can expect a difficult, slow growth. Hopefully, the market effects (cheap wind energy) will help a faster expansion later in this decade, and we can significantly exceed the 1000 MW of wind energy target set in the revised NECP by 2030."
Ján Karaba, Director of SAPI said:
The obligation to undergo full EIA for wind projects of any capacity has effectively frozen Slovak wind development for almost 20 years. Nowadays, we see the barriers slowly corrode away with the declarations of support for wind development by loosening the conditions for EIA and setting up clear deadlines for the results of the assessment. There are also plans to set up two go-to zones for wind parks. While a positive change, it needs to be further built upon if Slovakia wants to make up for the time lost and reach its targets for installed wind capacity. Slovakia has significant wind energy potential – contrary to popular belief – and needs to utilize it."