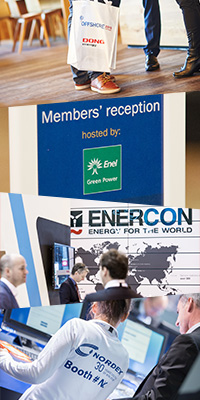 Sponsorship opportunities at WindEurope Summit 2016?
A diversified set of sponsorship opportunities are available to companies at the WindEurope Summit 2016 to:
Increase visibility towards a high-level audience
Engage with valuable contacts and achieve great business performance
Develop closer and stronger relationships with customers at a private networking event
Reach a highly targeted audience of international wind energy professionals
Stand out from competitors by showcasing products and services in an innovative way
Whatever your budget and requirements, sponsorship is a cost-effective, hassle-free means to successfully target the key decision makers in European wind energy industry. We can offer you a wide range of opportunities including tailor-made packages customised to your needs.
See our Event Ambassadors See our event sponsors
To discuss sponsorship opportunities contact:
Raul Lanzarote
Business Development Manager
+32 2 213 18 48
[email protected]
Promote your brand in the official conference programme
Maximise your presence at the conference and increase your business opportunities by advertising in the printed programme. The publication will be handed out to every delegate free of charge. Find out more about the available packages.