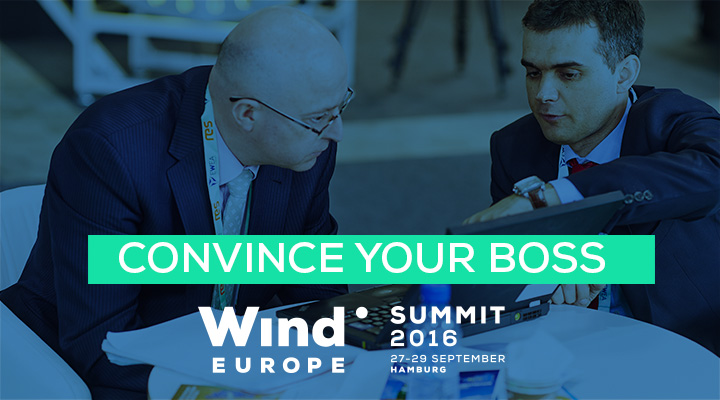 Need help to justify your trip to WindEurope Summit 2016?
At WindEurope Summit 2016, you will receive a fully comprehensive learning experience. That not only makes you more productive and valuable in your job, but it provides insight and information you can share with your whole team when you return. Below you'll find our top 5 reasons for attending, an expenditure spreadsheet and a sample email to help you convince your boss.
Top 5 reasons for attending WindEurope Summit 2016:
1. Stay on the cutting edge of industry trends
WindEurope Summit 2016 will address all the latest industry developments in the wind energy sector and how government policy can help address the challenges.
2. Gain topic-specific expertise
The wealth of information and knowledge that you can gain at the WindEurope summit 2016 is extraordinary. The conference will cover everything from the technical to the political. Sessions include: technology developments; digitisation; grid integration and power storage design; how the financing of wind is evolving; the growing role of PPAs (public and corporate) and the importance of electrification in transport and heating, to name a few.
3. Unrivalled keynote speakers
There's a long list of top skeakers confirmed: German Vice-Chancellor Sigmar Gabriel; EU Commission Vice-President Maros Sefcovic; Bloomberg New Energy Finance Chairman Michael Liebreich; leading energy thinker Jeremy Rifkin; Best selling author Jeremy Legett and Klaus Töpfer – former Executive Director, United Nations Environment Programme (UNEP).
4. Develop your professional network
With many networking events including the Opening Reception and Gala Dinner, the WindEurope Summit is an ideal setting to build new relationships within the industry.
5. Return on investment
Attendees at WindEurope Summit 2016 will gain knowledge and understanding that can have a positive impact within their company. The sessions are facilitated by both industry experts and academia and are directly related to the issues currently facing the wind energy industry.
Have a boss that needs convincing?
Download our toolkit to quickly and efficiently persuade your manager to let you attend. If you two get along well, why not invite your boss to go with you!
Download the toolkit
What's inside?