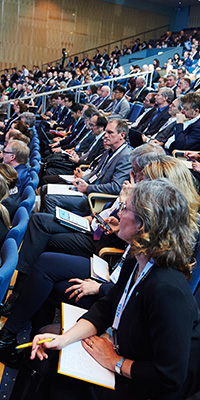 WindEurope wishes to thank the members of the abstract review committee for their time and diligence in reviewing the abstracts received, resulting in high-quality conference sessions and posters.
Industry reviewers
Felix Avia, CIEMAT
Richard Abrams, OST Energy
Thomas Ackermann, Energynautics
Vladislav Akhmatov, Netplanlægning
Mike Anderson, RES
Kimon Argyriadis, DNV GL
Masoud Asgarpour, Vattenfall
Chris Balcombe, Uniper Technologies
Stephan Barth, ForWind – Center for Wind Energy Research
Tomas Blodau, Senvion
Matthieu Boquet, LEOSPHERE
Ervin Bossanyi, DNV GL
Ricard Buils Urbano, DNV GL – Energy Advisory
Peter Clive, SgurrEnergy Ltd
Jan Coelingh, Vattenfall
Luigi Colla, Prysmian Group
Peter Dalhoff, University of Applied Sciences Hamburg
Sabrina Dankelmann, MECAL B.V.
Oscar Diaz, EDPR
Rory Donnelly, 3E
Charles Dugué, 8.2 Consulting AG
Karim Fahssis, MeteoPole Zephy-Science
Miguel Ferreira, MEGAJOULE
Breanne Gellatly, AXYS Technologies
Gregor Giebel, DTU Wind Energy
Julia Gottschall, Fraunhofer IWES
Honor Green, Vattenfall
Frederik Groeman, DNV GL
Jérôme Guillet, Green Giraffe
Michael Guldbrandtsen, MAKE
Vandad Hamidi, DONG Energy
Charlotte Hasager, DTU Wind Energy
Wei He, Statoil
Andrew Henderson, DONG Energy Windpower
Ferdy Hengeveld, MECAL
Matthias Henke, SgurrEnergy
David Jones, Allianz Capital Partners
Christian Jourdain, GAMESA
Athanasios Katsanevakis, ESTIA consulting & engineering S.A.
Tuuliki Kasonen, Estonian Wind Power Association
Morten Keller, MAKE Consulting
Henrik Kofoed-Hansen, DHI
Peter Kronberger, Bernecker+Rainer Industrie-Elektronik Ges.m.b.H.
Volker Köhne, DNV GL
Thorsten Landau, GE Wind Energy
Lars Landberg, DNV GL
Bernhard Lange, Fraunhofer IWES
Mats Larsson, ABB
Javier Lasa García, Acciona Energía
Gil Lizcano, Vortex
Simon Luby, K2 Management
Jens Madsen, Vattenfall AB
Frank Martin, Siemens Wind Power
Antoni Martinez, KIC InnoEnergy
Julio Javier Melero, CIRCE
Thomas Neumann, UL International GmbH
Steen Broust, Nielsen MAKE
Michaela ODonohoe, Adwen Offshore
Ioannis Pantousis, Aioliki Kilindrias
German Perez, TECNALIA
Konstantinos Pierros, ENERCON GmbH
Paulo Pinto, MEGAJOULE
Gustavo Quiñonez Varela, Acciona Energia
Thierry Ranchin, Mines ParisTech
Jennifer Ramsay, Local Energy Scotland
Eduard Sala de Vedruna, IHS Energy
Johannes Schiel, VDMA
Dennis Schiricke, OutSmart
Uta Schneider, Fraunhofer Institute for Systems and Innovation Research ISI
Klaus Schreiber, Gothaer Allgemeine Versicherung AG
Emilien Simonot, KIC InnoEnergy
Nigel Slater, UK Green Investment Bank
Stephen Steen, Sentient Science
Bernhard Stoevesandt, Fraunhofer IWES
Adrian Timbus, ABB
Ioannis Tsipouridis, H.W.E.A.
Igone Ugalde, TECNALIA
Sven Utermöhlen, E.ON Climate & Renewables
Mauro Villanueva, GAMESA
Edward Wagner, Sentient Science
Chao Wang, Aalborg University
Niklas Willemsen, ABB
Rafael Zubiaur, BARLOVENTO RECURSOS NATURALES S.L.
Scientific reviewers
Vladislav Akhmatov, Netplanlægning
Sandrine Aubrun, Université d'Orléans
Kirsten Bank Christensen, A2SEA
Stephan Barth, ForWind – Center for Wind Energy Research
Frede Blaabjerg, Aalborg University
Ervin Bossanyi, DNV GL
Po-Wen Cheng, University of Stuttgart
Maurizio Collu, Cranfield University
Boris Conan, Ecole Centrale de Nantes
Antonio Crespo, Universidad Politecnica de Madrid
Alvaro Cuerva, UPM
Nikolay Dimitrov, Technical University of Denmark
Iain Dinwoodie, University of Strathclyde
Mihaela Dragan, WindEurope
Gudmund Eiksund, NTNU
Pawel Gancarski, CENER
Zhen Gao, NTNU
Gregor Giebel, DTU Wind Energy
Sugoi Gomez-Iradi, CENER
Emilio Gomez-Lazaro, UNIVERSIDAD DE CASTILLA-LA MANCHA
Jan Helsen, OWI-lab/Vrije Universiteit Brussel
David Infield, University of Strathclyde
Stefan Ivanell, Uppsala University
Peter Jamieson, University of Strathclyde
Hans Ejsing Jørgensen, Danish Technical University
Mette Jørvad, A2SEA
George Kariniotakis, MINES ParisTech
Athanasios Kolios, Cranfield University
Xiaoli Larsén, DTU
Marco Liserre, University of Kiel
Eliz-Mari Lourens, Delft University of Technology
Andrey Metrikine, TU Delft
Michael Muskulus, NTNU
Tor Anders Nygaard, Institute for Energy Technology
Stavros Papathanassiou, NTUA
Joachim Peinke, Uni Oldenburg
Jennifer Ramsay, Local Energy Scotland
John Dalsgaard Sørensen, Aalborg University
David Schlipf, University of Stuttgart
Uta Schneider
Ursula Smolka, Ramboll
Gordon Stewart, NTNU
Bernhard Stoevesandt, Fraunhofer IWES
Kirsten Tracht, University of Bremen
Oguz Uzol, Middle East Technical University (METU)
Axelle Viré, TU Delft
Spyros Voutsinas, National Technical University of Athens
Simon Watson, Loughborough University
Wout Weijtjens, Vrije Universiteit Brussel/ OWI-lab
Wei Jun Zhu, Technical University of Denmark
Lisa Ziegler, Ramboll