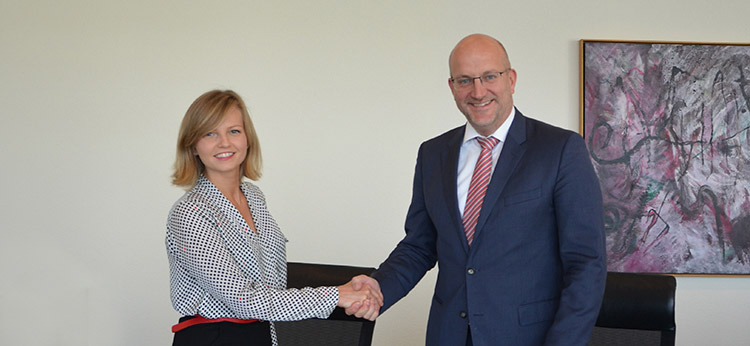 Uli Selbach, Business Unit Director of Hamburg Messe and Congress and Malgosia Bartosik, Deputy CEO of WindEurope responded to the following questions:
WindEnergy Hamburg teaming up with WindEurope. Sounds good, but what does it mean in practice?
Uli: Simultaneous conduct of the world's most important wind industry expo and conference enables Hamburg to enhance still further its status as the Global Wind Capital. Following the successful premiere in 2014, WindEnergy Hamburg as the leading international wind expo will again be a great meeting point for decision makers in the energy sector worldwide. We are expecting more than 1,200 exhibitors from over 36 countries in September. They will present their innovative products and services in a total of nine exhibition halls, with some 65,000 square metres of exhibition space. The leading international manufacturers in the onshore and offshore wind industry and their equipment suppliers have already secured their stand spaces in good time. Visitors at WindEnergy Hamburg will now have the opportunity to attend sessions of the WindEurope summit and, similarly, the many conference delegates will be able to visit the leading international wind expo.
Malgosia: It means a total wind experience! It will be a global gathering for the whole wind industry. Participants will have the opportunity to see the latest technology through exhibits and 40+ conference sessions. Business and networking opportunities will be incomparable to any other event. This joint event has the full back up from the industry as well as policy makers. German Vice Chancellor Gabriel has already confirmed to open the event and the interest from other key political and industry figures is tremendous. The event also has the strong support of the city of Hamburg.
So who organises what?
Malgosia: WindEurope will concentrate fully on the conference part and social events, like the gala dinner and WindEurope members reception. WindEnergy Hamburg will continue to focus on the expo and its outstanding business opportunities.
Can companies still exhibit?
Uli: Naturally, other companies can also book stands. But the choice of free spaces is now limited due to the high level of international interest. Interested companies would do well to contact us very soon.
Programme highlights?
Malgosia: Apart from the usual A-Z coverage of the wind topics, conference delegates will have unique opportunities to hear from inspiring speakers from and beyond the industry, that have never been part of this conference before.
As wind becomes a mainstream generation technology new topics such as storage, electrification and sector coupling strategies are becoming increasingly relevant. This will be reflected in this year's programme.
We are also making a targeted effort to offer a strong value proposition to the senior executives of the industry. For instance, we have teamed up with the OECD to arrange an exclusive roundtable for chosen CEOs and ministers. And we are also developing other innovative formats. We want to optimise the learning experience and maximise the ROI – and we want it to be fun to participate!
We are working very closely with the four Event's Ambassadors: Enercon, ENEL, Nordex and DONG to develop a programme that will not only provide the latest industry know-how, but also outline the solutions to the current challenges and move the industry forward. More details will be published on the event's website in the coming weeks.
Is this one off event or will you continue working together?
Malgosia: For now, the contract is for three biennial events, up to 2020. But WindEurope believes strongly in this cooperation and we are in it for the long haul. Although it is a very complex arrangement, with numerous stakeholders involved, we have managed to establish a very good collaboration between the two organisations. With the trust and good understanding we have between the two teams, I am convinced we will make it the most successful event in history.
The credit for success should go to the seven companies that were supporting this new event concept from the very beginning: Siemens, Vestas, GE, Nordex, Senvion, Gamesa and Enercon. And not least to Uli from Hamburg Messe. Without his open-minded approach and patience it would not have been possible.
Uli: I am very pleased that, with support from the City of Hamburg, we have managed to create this long-term link between the biggest and most important international wind industry conference and WindEnergy Hamburg. The opportunity to do business at the leading international expo and to visit the WindEurope Conference with its focus on the topics currently important to the industry is undoubtedly very attractive and unique for exhibitors and visitors. The response by industry to our cooperation is highly positive. And yes, Malgosia is right – the arrangement between our two companies for our events is complex. So I would like to thank everyone involved from industry and government for their support and attention. And let me return the compliment to Malgosia – without her, we would not have been able to reach this agreement. A good result from professional cooperation at global level! Both teams are now looking forward to the joint work that we have before us. And to finish up with, we will celebrate the results in due style at the end of September, together with the exhibitors, visitors and conference participants.