30 October 2021
Interview with Matthieu Bourguignon, Senior Vice President Europe, Nokia
This month, we sat down with Matthieu Bourguignon, VP, Enterprise Europe, to talk about Nokia's role as a provider of private wireless networks for industries and their contribution to innovation and digitalisation in wind.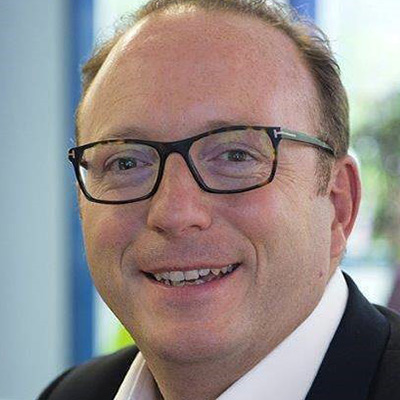 Can you tell our readers a little about your organisation? (General history in Europe, countries in which you are active, specific projects you are involved in, industry players you have worked with, etc.)
Nokia solutions enable service providers, industries and the public sector to create the critical networks that bring together the world's people, machines and devices. We help service providers to keep their customers connected in even the most challenging circumstances with infrastructure, software and services that deliver reliable, secure, high-performing connectivity no matter what demands are put on them. Year after year, our solutions are top-ranked by analysts and industry associations such as the Small Cell Forum and GSMA. We have been named #1 in IP edge routing by Dell'Oro, #1 in telecom software market share by Analysys Mason and have won a 2019 GSMA 5G leadership award.

We are also recognised by analysts as the world's leading provider of private wireless (4G/LTE and 5G) networks to industries, with over 320 customers and counting. Nokia has a dedicated group focused on industries – which includes energy, resources, transportation (rail, maritime ports, highways), manufacturing, subsea and the public sector. Our end-to-end solutions and groundbreaking Nokia Bell Labs innovations provide a gateway to a new age of industry where humans and machines will connect with more intelligence than ever before.

Within the energy sector, Nokia has been working with 200+ power utilities in Europe and throughout the world for several decades to help them build private communications networks to monitor, control and protect their assets. These network solutions include specifically developed Nokia equipment for the harsh power grid environment and applications such as protection, along with equipment that is globally deployed in large carrier networks.

We are currently working with utilities that are building industrial-grade private broadband wireless networks (LTE) to extend communications to their grid edge to support grid automation, leverage IoT and integrate distributed renewable generation, while enhancing field force productivity and safety. This recently led to private broadband network deployments for wind farm communications.
What are the most exciting developments you have seen in the wind industry?
With the EU and global zero emission targets, wind power in Europe has never been more visible. The growth in the number of locations across the entire length of the European coastline and the number of organisations diversifying their business by switching to wind is impressive. For the EU to deliver on its climate and energy objectives, we need to double the rate of wind deployment during the period 2021–25 to an annual installation rate of 30 GW.

Wind farms are becoming larger, generating greater amounts of power and are often more remote. More people and vessels are needed to construct, operate and maintain installations, and many are starting to use digitalisation as a means to optimise productivity and enhance safety. This has driven the uptake of mission-critical broadband connectivity for the seamless interaction between people and applications during daily operations and emergency situations.

Some of the most exciting applications we are seeing being implemented are in private wireless:

The replacement of TETRA and VHF narrowband communications by broadband wireless communications that not only deliver push-to-talk services, but push-to-video and data delivered to handheld terminals and tablets;
In-field connectivity to office applications, even from remote areas; and
Digitalisation of wind farm operations using wireless access to IoT devices and sensors for asset optimisation and more efficient maintenance operations.
What changes would you like to see in the wind industry?
An increased focus on collaboration to accelerate the realisation of the benefits of Industry 4.0 on wind farm operations through digitalisation and automation. A more standard approach across Europe to the availability of radio spectrum for offshore wind operators.
Going forward, what role do you see your organisation playing in the future development of wind energy?
As well as focusing on enhancing wind farm safety and worker well-being in these harsh environments, we are partnering with wind farm operators to help them establish a digital platform for innovation. We believe that establishing a broadband wireless foundation is the best way to foster innovation and explore new use cases that can leverage ubiquitous and secure digital connectivity. That includes partnering with wind energy ecosystem suppliers to provide more integrated and secure end-to-end solutions. We will share relevant communication learnings from our own work with our other customers pursuing digitalisation in adjacent industries such as power utilities. Our researchers at Nokia Bell Labs are also focused on helping wind farm operators to accelerate the uptake of Industry 4.0 – and reaping the benefits of it.
How has WindEurope membership benefited your organisation?
Participation in the WindEurope Operations and Maintenance Working Group has deepened our understanding of key business and technical issues as wind farms enhance their automation — especially as more remote wind farms with larger capacity turbines are constructed. It is also providing Nokia with visibility and insights into the overall ecosystem and industry thought leaders in the European wind market. We look forward to future opportunities to participate in face-to-face WindEurope events to learn and collaborate with the industry.
If we look ten years ahead, what do you hope to have achieved?
We hope to see the wind industry meeting and even exceeding its goals with Nokia playing a key role in making the industry safer, more efficient and innovative. We hope to help wind farm owners and operators build secure, reliable, pervasive broadband connectivity, critical for the flow of information and reaping the benefits of Industry 4.0 – wind turbine asset optimisation, enhanced worker safety and productivity, along with an improved quality of life for workers living offshore for extended periods of time.

On the innovation front, we expect the availability of broadband wireless to spur the adoption of exciting new applications such as drone-based inspection, autonomous vessels and AI/machine learning. Within the decade, 5G connectivity will be a cornerstone of the wind farm operator's business – enabling digital twins and allowing secure ultra-fast applications such as AR and VR to become common-place across the industry.

Most importantly, as a society and planet, we hope that we will be well on track in Europe for wind to support more than 50% of electricity consumption and beat current net zero emission targets. Nokia is proud to contribute to carbon reduction by supporting this industry in the buildout of safe and more cost-effective wind farms.
---
Find out more about Nokia